Almost all athletes, at one time or another, believe in superstitions. Players of all sports figure out a routine that works for them and stick to it for the rest of their athletic careers
In preparation for the Monon Bell game on Saturday, Nov. 16, the DePauw football team will meet together the night before to listen to a few words from the teams' leaders.
Seniors, gripping the microphone, share stories of how important this sport is to them, as they prepare to suit up for their final football game. Coaches take turns telling tales of past Monon games, including their favorite memories, in hopes of igniting a fire in their players. 
But these aren't the only rituals the team follows. Players partake in their own individual superstitions as well. 
As for starting defensive backs juniors Dylan Hyatt and Evens Cribs, they spend the week leading up to Monon learning every detail about the offense they are going up against. 
From strengths and weaknesses, to tendencies on different downs, this dynamic duo likes to have no surprises when they walk out onto the field Saturday afternoon.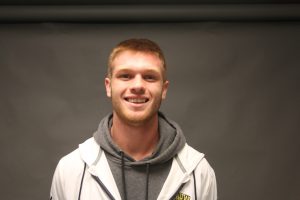 Cribs added, "If you know exactly what you are going up against on the field, then your job gets that much easier." 
Hyatt and Cribs also prefer to eat dinner at the local Dairy Queen every Thursday in preparation for the game on Saturday. 
"Yeah, Dairy Queen may seem like an odd place for something like this, but Cribs and I feel like it's a good environment to get away from everything and talk things over ourselves." Said Hyatt.
Cribs, a former employee of Dairy Queen, orders a 10 piece meal and Hyatt orders a BLT. This tradition started their first year when they were roommates and has continued ever since. 
They agreed that this Thursday evening meal lets them relax and talk about various game plans for that Saturday.
The DePauw football team plans to take the field this Saturday at 1 p.m. against Wabash for the 126th Monon Bell game. Go Tigers!