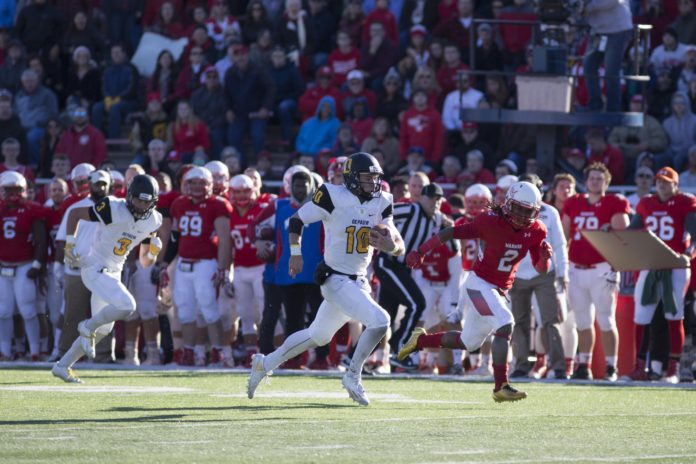 This Saturday, DePauw and Wabash fans will flood Blackstock Stadium for the 126th annual Monon Bell Classic. At 1:07 p.m., both teams will come face to face as they have since 1890. 
Only during 1897-1899, inclusive, and in 1902, 1904 and 1910, have the two schools failed to play one another. During the three years in the 1890s during which games did not occur, the schools simply didn't schedule each other for unknown reasons. 
The teams didn't meet in 1910 due to the death of the Wabash star halfback, Ralph Wilson. Wilson died from a concussion suffered during a game in St. Louis. 
The Monon Bell game used to be more than just a game. The week preceding the annual contest has in the past included shared activities between the two schools, such as concerts, debates, an intramural all-star football game, an alumni football game the morning of the varsity contest and other events.
The game is known as the "oldest college football rivalry west of the Alleghenies."
A 300-pound locomotive bell was added as the prize for the winners of the game in 1932. The bell, which we all know as the Monon Bell, was donated by the Monon Railroad in 1932. 
The game is one of the oldest college football rivalries, and Wabash leads the all-time series, 62-54-9.  
The last time won the Monon Bell was in 2016, the first time since 2008. It was a close win - the score ended at 37-34.