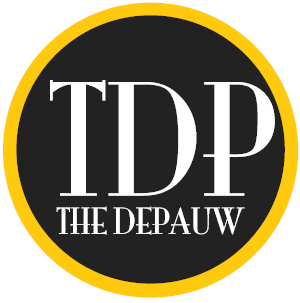 After a weekend meet, the DePauw University men's swimming team returned to campus with a sixth place finish and two national qualifying times.
The meet hosted by Kenyon College in Gambier, Ohio took place this past Thursday through Saturday and included teams from the University of Pennsylvania, Johns Hopkins University, Davidson College and Carnegie-Mellon University
On the opening evening of the competition, DePauw's 200-yard medley relay made up of sophomore Eli Anderson, junior Mitchell Davis, senior Brandon Sholtis, and junior Sam McManus placed 13th-place finish with a time of 1:33.04.
The 800-yard free relay consisting of junior Kurt Swieter, senior Matt Gullickson, sophomore Adam Pircon, and first-year Charlie Stewart-Bates missed the podium at 11th.
Pennsylvania led at the end of the first day with 282 points followed by Kenyon with 222.
Sholtis and Davis both made NCAA "B" cuts while leading the Tigers during the second day of the meet. Earning a "B" cut time puts a swimmer in contention for a spot at the national championship.
Sholtis took away a "B" cut in the 50-yard freestyle preliminary heat with a time of 20.52 seconds and finished sixth in the final.
Davis received a "B" cut as well in the 100-yard breaststroke after touching the wall in 15th 56.23 seconds. Senior Micah Rhodes placed 30th in the event with a time of 1:00.71.
Junior Kurt Swieter swam the 200-yard free in 1:40.48, just .03 seconds off a "B" cut. He placed 10th in the finals.
The Tigers' top finisher in the 200 butterfly was sophomore Zach Johns, after he finished 20th with a time of 1:58.72.
"I'm really happy overall with the team's performance at the meet this past weekend," Johns said. "We've worked really hard to get to where we're at and it was nice to see the work pay off."
DePauw's 200-yard free relay consisting of Sholtis, Schurig, McManus and Swieter placed fourth in 1:23.53, while the 800 free relay with Marcus Carter-Buckman, McManus, Pircon and Mark Gullickson touched in 3:26.10 and 10th place.
Mark Gullickson was satisfied with the result, citing tough competition. "With some of the top DIII schools in the nation, as well as two distinguished D1 programs, I knew this would be one of the most competitive meets we compete in this year," Gullickson said.
Junior Eric Addy scored 437.65 points in three-meter diving and placed second overall.
The final day of the invitational was headed by Addy's NCAA Regional qualifying performance in one-meter diving. Addy came in second on the one-meter board and qualified for the NCAA Regional with both his prelim and finals performance
The Tiger's 400 free relay of McManus, Wagner, Matt Gullickson and Swieter completed the race in eighth with a time of 3:05.38..
DePauw ended the competition with a sixth-place finish, collecting 570 points overall.
Pennsylvania won with 2,572 points, followed by Kenyon with 1,907, and Johns Hopkins with 1,257.2.
Johns sees a bright future ahead for the team. "I think that the meet was truly only the beginning of what this season holds for this team," Johns said. "There's a lot more training before we go to Denison for the conference meet."
McManus came in 13th in the 100 free with a time of 46.08 seconds, just .01 seconds slower than his prelim time. Junior Sam Wagner touched the wall in 47.29 right after, placing 19th, following his 46.76 prelim time.
"A fast mid-season meet like this enabled some of the guys to reach national cuts which will be important later on in the season for their taper," Wagner said. "For everyone the meet was a chance to work out kinks when swimming at the highest level of performance so we'll be prepared for conference at the end of the year."
The Tigers' next meet is Jan. 7 at Ohio Wesleyan.