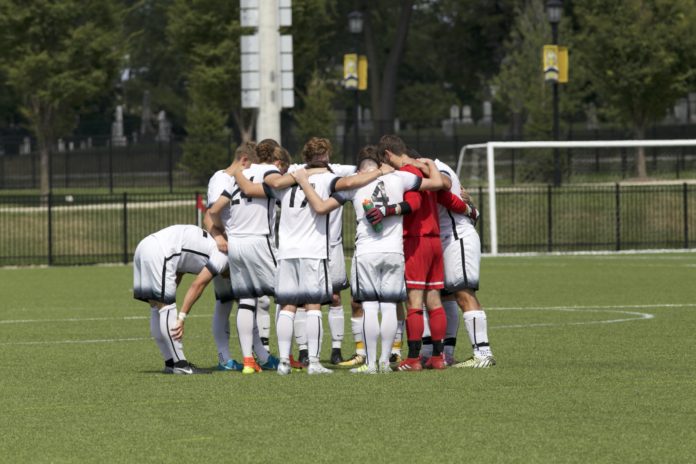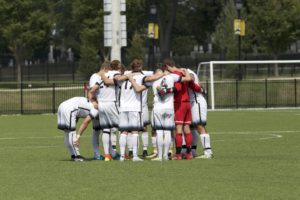 The Tigers opened up their regular season last weekend with a 2-0 win over Hanover College on Friday and a scoreless draw against Case Western Reserve University on Sunday.
Playing in a torrential downpour in Hanover, Indiana the Tigers saw their first goal of the season scored by junior defender Andrew Gold in the 25th minute. Gold powered the ball in the net with a strong header off a free kick from senior midfielder Jack Cornelo. The lead was extended in the second half with a strike from sophomore defender Jake Brady. DePauw would hold on to the 2-0 lead until the final whistle blew. Senior goalie Ben Davis had three saves for the Tigers in his first shutout of the year.
"The weather was brutal for both teams and it was a slipped player or skipped ball away from going in any direction. Our level of focus was fantastic," said Head Coach Brad Hauter.
Senior midfielder Taras Tataryn agreed. "I think it forced us to really concentrate," said Tataryn. "Everyone stepped up to make sure that a mistake due to the weather wasn't going to decide the game."
Sunday's fixture at home was a grudge match for DePauw. They faced a very good Case Western Reserve team who came ready to play. The match ended 0-0 as neither team could find a goal after two overtime periods.
The packed crowd at Reavis Stadium almost thought they had seen the breakthrough as Brady dribbled past defenders near the 6-yard box and fired in a low cross that deflected a foot wide.
"Sunday was a challenge in that we did not keep the ball and had to defend too much," said Hauter. "There were too many turnovers and unforced errors gave them momentum, but hats off to our guys in keeping them off the board in a tough match."
The Tigers travel to St. Louis, Missouri on Friday to take on Washington University of St. Louis.