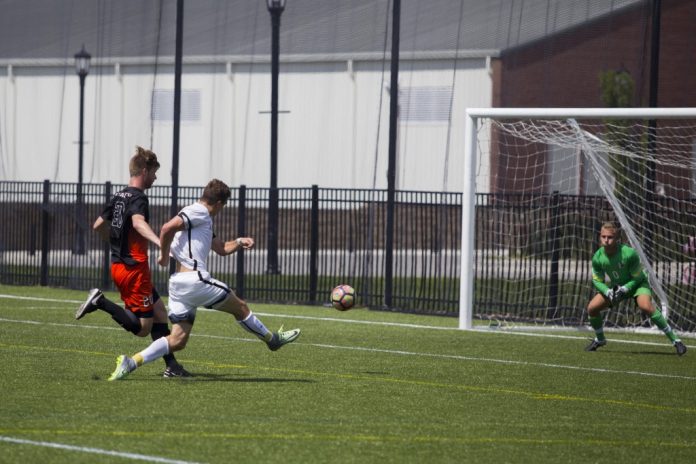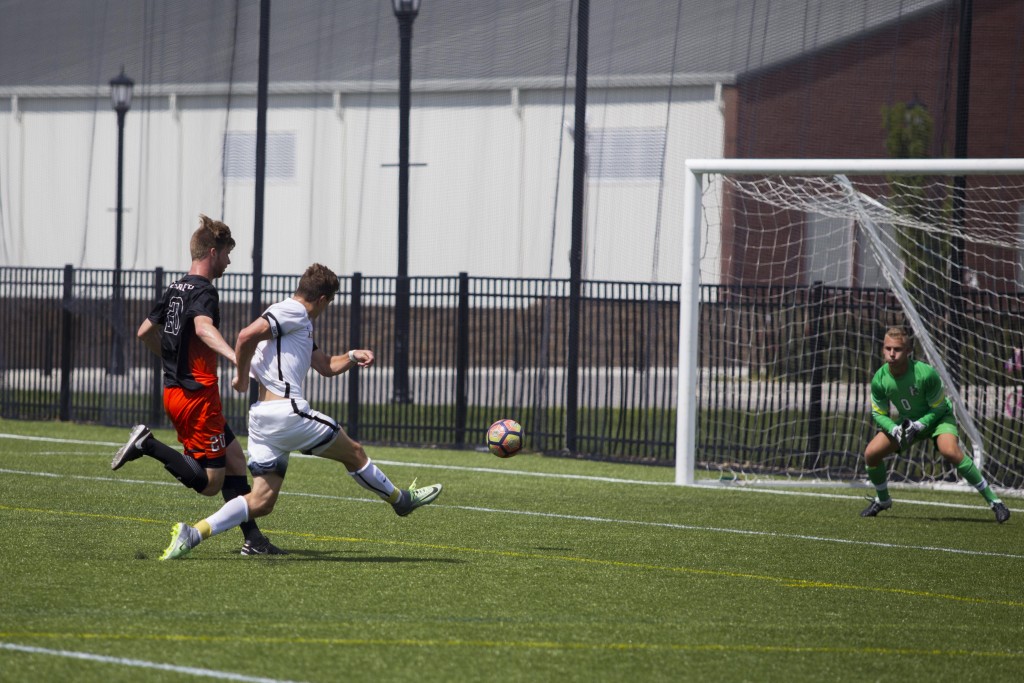 DePauw University's men's soccer team opened up their season on Thursday against Hanover College. After a hard fought battle, the Tigers came out victorious, winning by a score of 2-1.
A lot went into making this victory possible for the Tigers, but what made it truly viable was the players' willingness to put in the necessary work during the off-season.
"A lot of people put in work. Whether it was in the weight room, getting touches on the field, or training for our team fitness test we have at the beginning of every year," said sophomore defender Andrew Gold. "I think it shows a lot of character that everyone could be held accountable to that. We did all the work that needed to be done."
The first half of the game was fairly quiet for both teams, as neither was able to score in the first 45 minutes of play. Gold said that although they were scoreless by the first half, the team had a plan.
"We knew that we needed to keep doing what we were doing, and that the goals would eventually come," Gold said, "We felt that we had the majority of the possession and that we were the more dangerous of the two teams in the first half. So, it was just a matter of keep pushing, keeping your head up, and playing a hard game of soccer."
The strategy that the Tigers discussed during halftime was successful as senior forward Zach Hoffman was able to bury a goal at the 51-minute mark to put the Tigers ahead.
Unfortunately, the slim lead would not last long, as Hanover was able to respond during the 72nd minute of the contest, tying the game at one.
Gold came to the rescue during the 76th minute, putting away the goal that would eventually win the game. The goal in particular had significance to the team victory, but it was also a fairly significant milestone in Gold's career.
"It was actually my first career goal," Gold said, "So that made it even more exciting. And to have it in that context made it even more special."
The Tigers were able to close out the game with a 2-1 victory. Although they escaped with a victory, it doesn't mean that there's nothing to work on over the coming weeks.
"I thought we kept the ball a lot better in the first half than the second half, which is one of the things that we're going to have to improve on as we start going on to play better teams," senior midfielder E.J Moore said, "It's important to keep possession of the ball so you're not just chasing on defense all the time."
Although they leave the game with a clearer picture of what they need to work on, they also leave with a victory in their first game.
"Starting off 1-0 is awesome because it gets rid of our nerves," Hoffman said, "I know usually in the first game of the season everybody has those nerves and is worried about whether we're going to win or not. So, I definitely think it's great that we got that out of the way because it helps set the the tone for the rest of the season."