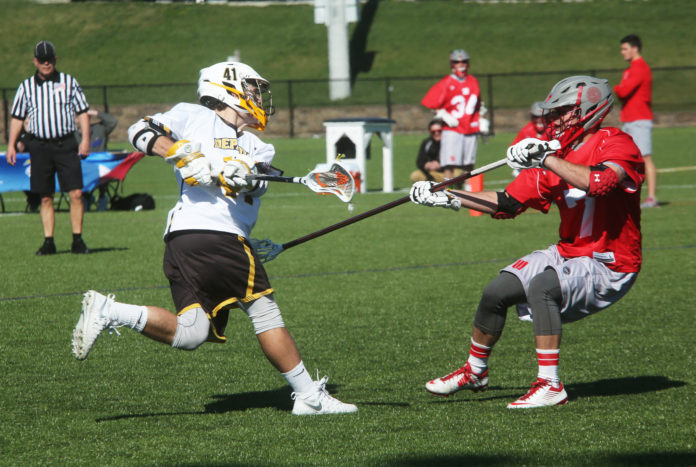 The DePauw men's lacrosse team played in their final home game against Wabash College last night in front of a crowd full of students, families and anticipation for the biggest rivalry game of the year. The Tigers came out victorious with a final score of 15-7.
Only 34 seconds into the game, DePauw's Nate Greenberg scored the first goal of the match. When the buzzer sounded at halftime, the scoreboard showed and impressive 12-3 DePauw lead. Senior Joe Garvey played a huge role in the game by winning 17 of the 22 faceoffs he was involved in. By the end of the matchup, Greenberg and Will Roberts had each scored four goals for the Tigers. DePauw held strong throughout the entire game, ultimately ending in a score of 15-7.
The Tiger's current record for the season is 6-8. Sophomore Cole Speer said that the team is playing its best lacrosse of the season.
"We have grown this season through a lot of ups and downs," Speer said. "Our season was full of injuries and setbacks, which required everyone to do their role on the team which made us a lot closer."
Wabash was unable to keep up with the cohesive teamwork seen from the DePauw side, as the DePauw seniors came out with energy in their game on the Reavis Stadium turf. Speer claims that the leadership of the captains, especially senior Donny Bleifuss, was an important element in the team dynamic.
Senior Steen Jorgensen has had a remarkable season, breaking the career record for goals scored in a career. Jorgensen recorded his 94th goal in the Wabash game.
"It's a pleasure to play with this group of guys each day and each individual on the team has an important role," said Jorgensen.
The men's lacrosse season is coming to a close with their final game against Hiram College taking place on Saturday.