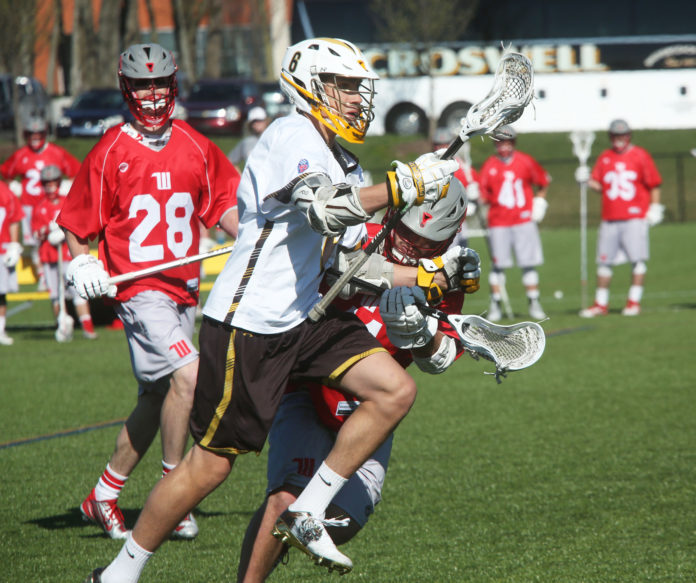 Despite losing their first two contests, the men's lacrosse has a promising future. With the humbling 0-2 start, junior Matthew Braun, who leads the team in ground balls, looks forward to the team's immediate response. After two games, senior Patrick Durnien leads the team in goals (4) and junior Will Roberts leads the team in assists (3). The Tigers collectively agree that there are more positives than negatives from the first two games of the season.
The team added Andrew Gillespie to their coaching staff in the off-season. He brings a strong defensive focus to the team. Because he played college lacrosse at Ferrum College, he also brings Division III lacrosse experience. According to sophomore attackman Danny Karbowski, the new assistant coach has already sparked the team's confidence. He said, "Although he doesn't coach my position, it's awesome to have a young coach on the field with us. He is very relatable and has a high Lacrosse IQ."
Currently, the men's lacrosse team has six seniors leading the team. Senior midfielder Jack Richey said, "We have six seniors in our program that have seen the development of the team over the last four years. I think having multiple experienced individuals is helping lead the team and teaching the young guys the ropes."
With the amount of leadership on the team, the Tigers are pushing for their end goal: making the NCAC tournament. Junior Ben Davis said, "The comradery has definitely increased this year. We all feel a lot closer to each other than we have in years prior." With a new coach, apparent leadership, and an attainable goal, the Tigers should have a solid season ahead of them.
Tigers LAX will open conference play on March 7th at Denison University.