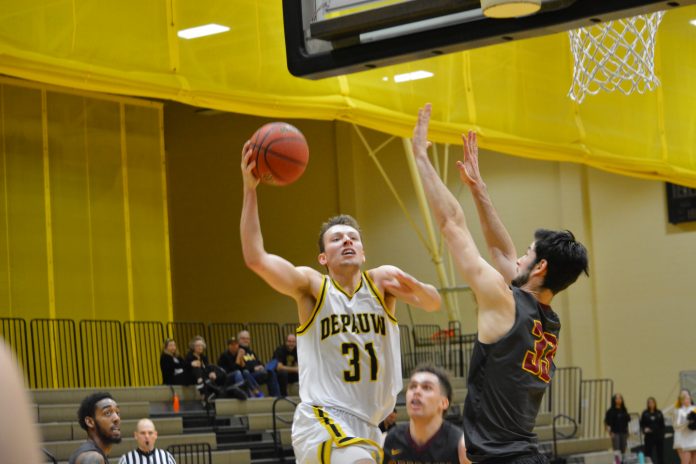 The men's basketball team opened their weekend road trip with a loss to Hiram College, but salvaged the trip by defeating Allegheny College on Saturday to remain in fourth place in the North Coast Athletic Conference (NCAC) standings.
The Tigers got off to a slow start against Hiram, as they trailed by as much as 12 points within the first eight minutes. A junior Matt Mahlke tip-in cut the lead to six with 8:08 to go, but the Terriers ripped off a 20-9 run to take a 41-24 lead into the half.
The halftime deficit proved to be too much to overcome as DePauw was unable to cut the lead to under 12 points for the entire second half.
Mahlke and sophomore Nolan Ginther led the way for the Tigers with 15 points each. Sherman Dean III was the difference-maker for Hiram with 32 points.
The Tigers got off to a better start against Allegheny as they scored the first eight points of the game. Allegheny was able to climb back and take a 28-26 lead with 4:14 remaining, but sophomore Nick Felke hit a layup in the final minute of the half gave the Tigers the lead.
DePauw never gave up the lead again during the second half as they outscored the Gators by 12 points in the second half.
Felke led DePauw in scoring with 20 points. He also added six rebounds and three assists. For other Tigers ended the game with double-digits points.
The Tigers improved to 14-7 overall and 8-6 in the NCAC. They face off against 14th-ranked Wabash College on Wednesday in Neal Fieldhouse.