Over the weekend, the men's and women's Track and Field teams competed outdoors for the first time this spring.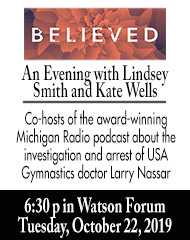 The men's Track and Field team was led by Luke Patty's two first-place finishes as they finished fourth place in the Ruse Hulman Early Bird Meet. The women also finished fourth in the meet, as they were led by seven top-three finishes.
"It was nice to compete outside for the first time all year," senior Johnny Miller said. "It's just more fun running in fresh air than inside."
Patty won the 200-meter and 400-meter dashes with times of 22.23 and 50.79, respectively. The team also scored big points in the distance events, as Paul Christian won the 5,000-meter and Callaway Bird finished second in the 1,500-meter. Michael Ocasek was also the leader in the 800-meter race as he finished with a time of 1:59.76.
Other notable finishes were Tyler Nemeth's fourth-place finish in the pole vault, Satchel Oskins fifth-place finish in the 400 hurdles, Miller's sixth-place finish in the 400 and Kamal Apatira's third-place finish in the long jump.
Senior Kaitlyn Daanan earned the women's team's only win as she led the 200-meter dash field with a time of 26.4 seconds. Erika Marchant was also a big point-scorer, as she finished second and third in the 1,500 meter and the 800 meter, respectively.
Kate Hennessey finished just three seconds behind Marchant in the 1,500 meter, with a time of 5:03.47, and Natalie Gruszka was fifth in the 1,500 meter and the 800 meter.
Rose Hulman won the women's meet with 176.5 points, while the Tigers recorded 72.5 points. Rose Hulman also won the men's meet with a score of 215 points, while DePauw earned 76 points.
The teams enter a two week break during spring break, where they will be working out remotely from their respective locations. Miller said that the upcoming break made this meet that much more important, because they knew it would be the last time they would be competing in a long time.
"We all wanted to make sure we ran as best as we could because you would hate to be stuck thinking about a bad run, without the opportunity to redeem yourself for weeks," Miller said.
Their next meet will not be until April 6 as they host the DePauw Invitational at Blackstock Stadium.