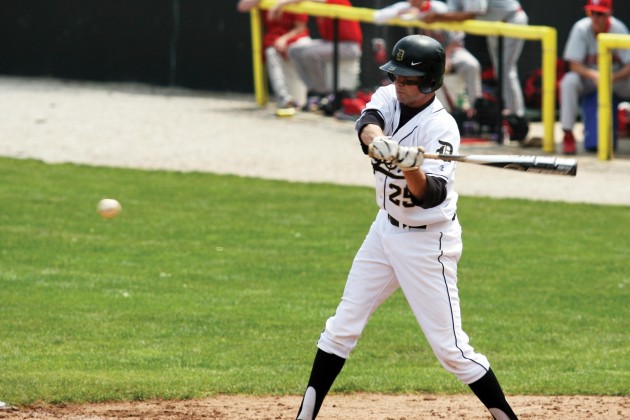 After a rainout on Saturday, Sunday's bright blue skies and slight breeze was the perfect environment for two dominating DePauw wins, 6-0 and 10-5, over the Wabash College Little Giants, 13-19 overall, 4-6 in the North Coast Athletic Conference.
Clinching the NCAC West Division, the Tigers showed why they are the force to be reckoned with in their new conference. Sporting a record of 27-5 overall and a 12-2 mark in conference, DePauw's depth is working to their advantage at a critical juncture in the season.
"We are hitting our stride," said sophomore shortstop Zach Starr. "After those two losses at Ohio Wesleyan we really are clicking now. This is the time where we need to start getting hot for the conference tournament. It's all there right now."
With senior Hobs Donovan on the mound for the first game of Sunday's twin bill, DePauw's first batter was a rested Zach Starr, playing his first game off the disabled list from a seventeen game absence.
Starr made a statement. He homered in his first at bat and did so again in the second game for his team-leading fifth and sixth home runs of the season.
"I felt a lot better than I thought I would," Starr said. "I'm just glad to be back with the team. I can't say I'm upset with how I'm hitting either."
The offense certainly was not just at the top of this potent Tiger lineup. A reliable threat from the middle of the lineup threat, senior third baseman Alex Wright went for a combined 4 for 9 over the weekend including a clutch two run RBI double in game one and a three-run homer in the second game.
Senior Sam Swafford also added a three-run home run of his own – his first of the season – to solidify a 6-0 Tiger win.
In the sixth inning of the second game, DePauw's senior first baseman Rob McPike collected his 200th career hit on a bunt single. He is now one of only three players in DePauw history to have achieved reached the two-century mark.
McPike has been one of the most consistent DePauw hitters throughout his career and has been a powerful force in this year's lineup maintaining a .336 average with 42 total hits. He also is the current all-time leader in RBIs with 126.
"It was a cool moment, just knowing that I was third person in DePauw baseball history to have 200 hits," McPike said. "In the grand scheme of things, there were probably a lot of other players that could have had 300 hits, they just didn't get a chance at a freshman…I guess you got to be healthy and you got to play all four years."
McPike is now third all-time and, bearing some sort of tragedy, should pass the Matt Deahl '06 to take second all time before the end of the season. Deahl currently sits at 202.
The pitching was no less impressive, notably marked by the complete game effort from Donovan. Motivated by a tough outing in last weekend's 21-9 win over Ohio Wesleyan University, Donovan threw a game one, seven inning, three-hit shutout in which he struck out twelve Little Giant batters.
With confused swings and poor contact, Wabash hitters were baffled by the intricate pitch selection from Donovan who seamlessly switched between an eclectic mix between his high-velocity fastball and accurate change-up. The Little Giant's one through five hitters went just 1-14 off of Donovan.
"I used my off speed well, and I think the biggest thing was that I was getting ahead early in the count," said Donovan, who is now 2-0 as a starter. "Everything was working and nothing was going wrong."
Confident amid a three-game win streak, DePauw will play Wabash for the makeup games only if it is necessary for the Little Giants' conference schedule, but that is not likely at this point. DePauw welcomes Case Western Reserve to Walker Field for four games this upcoming weekend.