Sitting down for what is presumably his last interview at DePauw University, Matt Abtahi looked ready. The gray walls of his office were the most exposed they have been since he made it his own, with many of the personal artifacts that used to decorate his space already sitting in a box outside the door.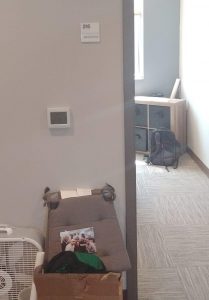 Abtahi, who was named interim Director of the Center for Diversity and Inclusion (CDI) at the beginning of this academic year, will complete his last day at DePauw on Sept. 11. In the meantime, he'll be using his earned vacation time.
Although Abtahi's time at DePauw was brief, just over two years, it was also "complicated," he said. While working with the CDI, he reported to seven different supervisors as university leadership shifted during his time.
He also put parts of his life on hold to live and work in Central Indiana, and faced the reality of bias incidents on campus, both that targeted students as well as himself personally.
"I knew what I was signing up for coming to Indiana and coming to Greencastle," Abtahi said.
News of his decision to join the Multicultural Student Affairs team at Northwestern University came days after a misunderstanding during first-year orientation, when a first-year referred to Abtahi as 'Satan' in a group chat. Abtahi addressed the first-year mentors about the comment before fully understanding the situation or speaking to the first-year student. A choice he apologizes for.
"It's an example of when the back channels of our communication... are guiding how we're making decisions. We make decisions that only disturb the community, and if that is not a testament to quite literally my entire experience (at DePauw) I don't know what else is," Abtahi said.
However, this incident was not a factor in Abtahi's decision to leave as he was applying for jobs in Chicago since spring. His new responsibilities will focus on community building among the Northwestern LGBTQIA+ community.
Abtahi tells students to prioritize their mental health, center themselves, during their time at DePauw while also being open to "conversations that also help you grow. I wanted that for myself," Abtahi said.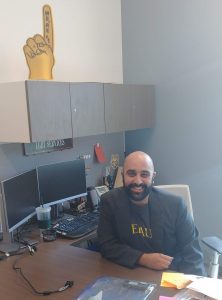 Chicago offers him a guaranteed opportunity to center himself, he says, though he acknowledges that there have been people in the Greencastle community who have helped him along the way.
There are "magical folks in this community that are doing profound work, and actually helping Greencastle grow and become a city of inclusion and meaning," Abtahi said.
As Alan Hill, VP for Student Life, continues the search for a Chief Diversity Officer, per a demand by the Association of African American Students, the university is also nearing the final stages of hiring a CDI Coordinator. The coordinator, who is expected to be hired by mid-October, will take over some of Abtahi's former responsibilities such as supporting Connections Mentors (a mentor program for students of color), working with Hoosier Hospitality (a program that connects international students with community members),and planning future programming to serve the needs of students.
Another one of Abtahi's responsibilities was serving on the DePauw Day of Dialogue planning committee and his departure requires student organizers like Summer Pappachen, student body president, to adjust their planning less than a month before the event.
"We do have to work to pick up a lot of that load," Pappachen said, "because Matt was a gem on the campus. He carried so much, too much weight on his shoulders. We are all going to feel that on campus and DePauw Dialogue will too."
The impact of Abtahi's departure will be felt across campus. Under his leadership, the CDI encompassed Multicultural Student Services, International Student Services, LGBTQIA+ Student Services and Deferred Action for Childhood Arrivals (DACA) and Undocumented Student Services, while also supporting over 20 student organizations.
While the logistical futures of those services are unknown until a Chief Diversity Officer is hired, Abtahi stresses the importance of an engaged community as well as personal self care.
"DePauw is only going to be as good as the community members who stay fully engaged," Abtahi said. "Students, faculty and staff all need to make a conscious decision about what their engagement looks like, and what their self care looks like coupled with that."
Abtahi specifically said that students and tenured faculty should consider what they are asking of staff because their critiques have impact, most often on those with few rights: hourly employees and staff.
"Be gentle with staff members on this campus. Be gracious with staff members on this campus," Abtahi said.