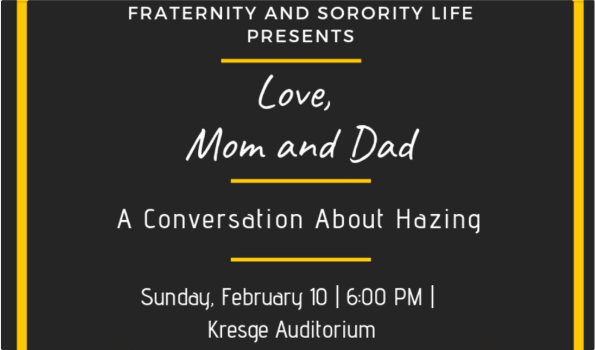 In 2014, Rich Braham received the phone call no parent ever wants to hear. His son, Marquise had died by suicide after a hazing incident at his Penn State fraternity.
On Sunday night, Rich Braham, the father of Marquise Braham, will address members of DePauw's fraternity and sorority life about the dangers of hazing.
In 2018 at the 83rd John O. Moseley Leadership School of Sigma Alpha Epsilon Fraternity, Tim Piazza, Max Gruver, and Marquise Braham presented Love, Mom and Dad. Throughout the talk, they explained the unforgettable and devastating losses of their sons. "Marquise, Max, and Tim were the hopes and dreams of our families…our kids are gone because of hazing," said Braham during the presentation.
Today, Braham, along with other families, is part of the Anti-Hazing Coalition in an effort to fight hazing in Greek life across the country. According to HazingPrevention.org, "When students arrive at college, nearly half have already experienced hazing." The effort is also supported by the North American Interfraternity Conference (NIC) and the National Panhellenic Conference (NPC). "This Coalition seeks to address the problem earlier through education, while also strengthening accountability and transparency through new model state legislation."
A description of the event on DePauw Campus Labs writes, "You will hear Marquise's story through the lens of his father and understand how hazing can have an impact on a family and college and university community."
This talk is timely, as new members of DePauw Greek houses are beginning new member education before being initiated.
Abby Hutson-Comeaux, sophomore, will be attending the talk tomorrow and said, "It will be really interesting to hear a real-life situation." Hutson-Comeaux is a member of a sorority on campus and said that the presentation "will be really be something to reflect upon and will allow people to consider their own actions on our campus."
The presentation will take place at 6-7 p.m. in Kresge Auditorium in the Green Center for Performing Arts.