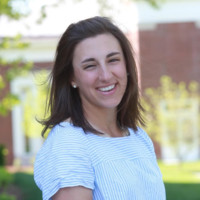 Liz Getz took the position of DePauw's Sexual Assault & Interpersonal Violence Prevention & Education Coordinator, replacing Katie Childs. A DePauw alum, Getz '18 worked as Campus Events Coordinator before taking the job in the Women's Center.
During her time as a student, Getz spent lots of time studying gender violence and the history of sexual assault in the United States.
"This is something I'm really passionate about and that's why I applied for the position," Getz said. "I am excited to keep working with students and have engaging conversations about what it means to do sexual assault prevention and education work because a lot of students are coming into campus, and they're experiencing and being exposed to all these new ideas."
Getz said that there are a lot of challenges to her job.
"One of the biggest challenges is that all of our students are on completely different levels," Getz said. "Each student has a different understanding of sexual assault and sexual violence and relationship violence, and so it's about meeting each student where they're at."
Getz is planning an event called A Chill Table Talk for next semester. Students can meet with her once a week and have open conversations about different issues related to sexual assault, sexual violence and interpersonal relationship violence.
Starting from Nov. 7, the Women's Center interns will also hold weekly lunches every Thursday in order to create a place for students to have conversations about sexual health, gender and relationships. Students can find Getz during the event to get to know her better.