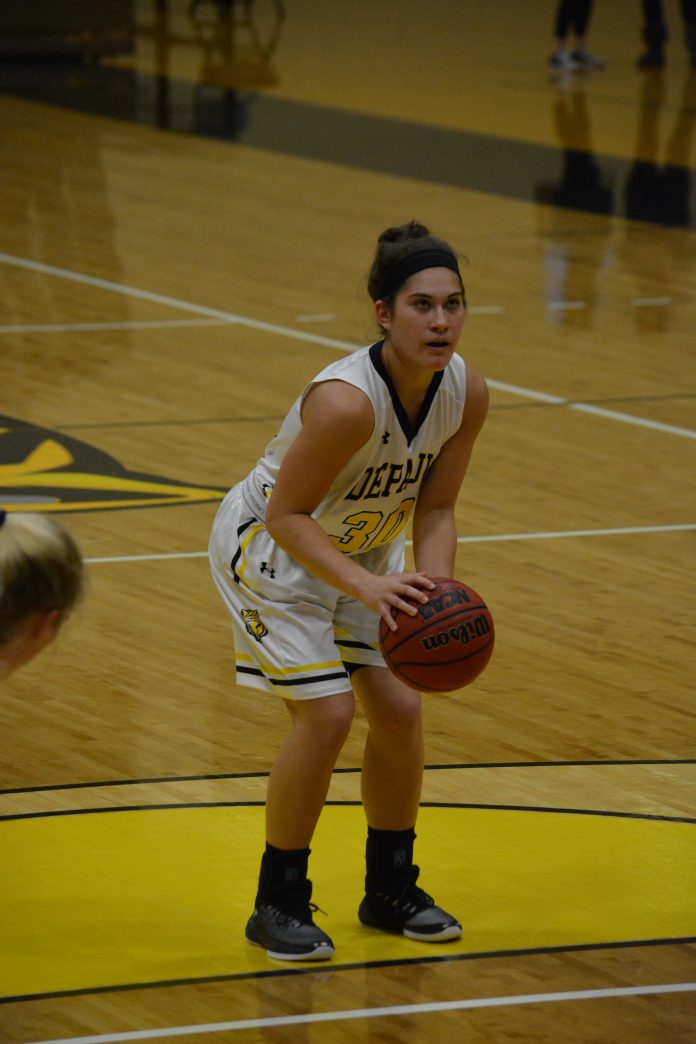 The #4 ranked DePauw women's basketball team continued their strong season with a win against Hiram, defeating the Terriers 65-62 on their own paint last Saturday. Mounting a 17 point comeback, senior Sydney Kopp led the team in points (26) and rebounds (12). She notched her 1,540th point in the middle of the third quarter, bringing her team back into contention and breaking DePauw's all-time scoring record.
"The message in the locker room was just that Hiram was outworking us, playing tougher than us and that if we were going to go down, it was not going to be because [Hiram] gave more effort than us," said Kopp. "We really made it our focus that no matter what happened in the second half, we were going to win every hustle play and give 100% effort on every possession."
After trailing 42-28 at halftime, DePauw overtook the Terrier lead late in the fourth quarter and held on for their 21st win of the season. By the end of the game, the Tigers had scored 36 points in the paint, 21 points off second chances, and 25 points off the bench. DePauw moved to 13-0 in conference play, maintaining 1st place in the NCAC standings.
"In the Hiram game, our word was FIGHT. Offense would come, but the big key was defense. Get our hands up, get the hustle plays, and once that was in play our offense would come," said senior Claire Keefe. "Maeve Summerville was a critical player in the second half who brought a huge spark off the bench. Overall, we knew losing was not an option."
Like previous years, Kopp has been one of the best offensive players in the conference. She has the highest three point shooting percentage (38.0%), points per game (21.7), and overall points scored (478). Ever since Kopp arrived on campus four years ago, she has been an offensive threat and will forever be cemented in DePauw athletics history.
"The journey has been the best four years of my life and I'm definitely not ready to give up yet. I love that my hard work is paying off, but I know that this team can really do something special together and complete my journey with a win in the national tournament," said Kopp.
DePauw will face another conference opponent, Ohio Wesleyan, at home this Saturday at 3pm.