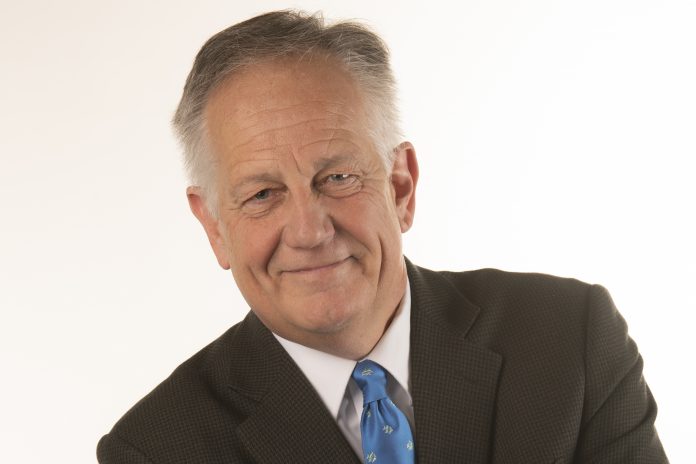 From the moment Ken Owen visited DePauw University for the first time in 1977, he knew he was going to be a Tiger. He said, "The day my parents brought me here was actually the day of the 1977 Monon Bell game…That was the year that ABC came, and it was the first time it'd ever been on television."
Owen knows DePauw in many ways. He has been a student, alumnus, donor, Alumni Board member and is currently the Special Advisor to the President. The '82 grad has spent much of his career at DePauw researching its history and traditions, making them available for anyone to enjoy and learn from.
Wendy Gifford class of 1971 and former editor of The DePauw agrees. She said, "Ken has been more than a spokesman. He has been a true ambassador for DePauw – students, faculty, and alumni."
Owen's impact went beyond the university, helping students like DePauw Alumni Stan Jastrzebski secure a job after graduate school. Jastrzebski said, "Ken made a good impression on a former coworker of his at the time and the news director at WIBC hired me out of graduate school after can mentioned me to her."
For the past 41 years, Owen has been one of DePauw's biggest supporters. Even when Owen found out his job was being eliminated due to the financial restructuring earlier this year, Owen remained focused on DePauw's future. In an interview after the announcement, Owen said, "When I left television to take this job 19 years ago, I did it in the hopes that I could make my alma mater — a place I love — more vibrant and help to build an even better future for the college. While today's news is tough, I must remember that these difficult decisions are designed to ensure that DePauw has the bright future that I envision for it."
Owen's mother also spent two years at DePauw as a music student. Owen said, "In our house in Chicago growing up, there were always DePauw magazines and pennants and sweaters around." When it came time to apply to colleges, he applied to various other schools but never visited them. He said, "I just came to DePauw, and it was the best non-decision I ever made."
From the first day at DePauw, Owen took full advantage of the university. He said, "I loved it, you know. I was on the radio (WGRE) from the first day and played baseball and (was) in the fraternity Phi Delta Theta and made the best friends that I still have in my life."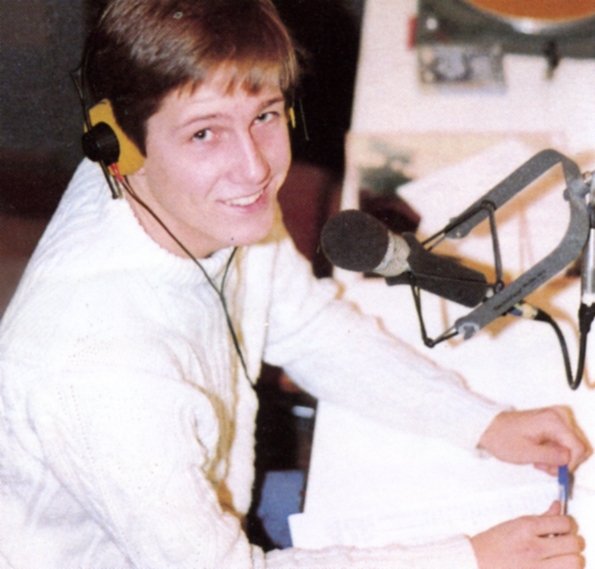 Throughout his time at DePauw, Owen became passionate about media and communications. His focus was journalism, and by the time he was a senior he " had a job in Indianapolis and was going back and forth and running the radio station, too."
After he graduated, Owen worked for multiple media outlets, but found his way back to DePauw as a member of the Alumni Board. In 2000, the Alumni Board was looking to fill a role that had yet to be defined, and they looked to Owen to help identify candidates. "I gave them probably eight to 10 names, and they kept coming back and saying, 'We still haven't found the person,'" Owen said.
He eventually applied for the job himself at the board's request, with encouragement from his friend Mitch Daniels. When DePauw offered Owen the job, he still wasn't sure. "President Bob Bottoms called me and said, 'If you're going to turn it down, you've got to do it to my face.' And so I came back to campus, and here I am 19 years later. It's been a great ride," Owen said.
Owen wrote his own job description. He was only directed to get the DePauw name out there more. His first step? DePauw's website. According to Owen, on the website "there was nothing before 1996, and we have a history that goes from 1835. I started writing a story each and every day.. so every day, Christmas, New Year's, weekends, every day, there's a new story on our site, at least one— sometimes seven or eight. Then I started every time if I found a date, anything that ever happened in history, I'd create a story about it, and write it as if it was written that day so all of a sudden we have 25,000 stories on our website, which I'm very proud of, because I think our website is reflective of our history."
Along with archiving DePauw's history Owen worked on promoting the Monon Bell game, which was technically outside of his job description until 2002 when he took over the game's telecast and got it featured on national TV, where it has been broadcasted since 2006.
Owen also helped make the Ubben Lecture series what it is today. The series brings speakers from all over the world to DePauw, notable ones being Malala, David Cameron, Bill Clinton, and Jane Goodall. He said, "In 2002, I probably grumbled enough about the way it was being run that President Bottoms called me one day and said 'it's yours now' and that's been a joy because I love working with Tim and Sharon (Ubben), and they've obviously given almost $100 million to DePauw and love this place. It's changed the place in so many great ways."
Even after he leaves in December, Owen will continue to run the Ubben Lecture Series on a contractual basis.
Owen said, "Forty-one years ago, I came here as a student. Every day I come to campus now, I look around, and it's strange, because I realized this is the last May 6 I'll ever be on this campus. You know, I'm sure I'll come back. But you know, this has been my home as a student. And as somebody who's been a donor for 37 years, and somebody who has been volunteering and speaking to students, it's a weird way for it to end."
When Owen looks back at his time spent here, he is proud of the work and care he has put into the university. Owen said, "I guess in a nutshell, I've been able to polish little corners of that thing we call DePauw and make them shine in ways that make us all remember why we love this place and why the four years we spent here were so special."