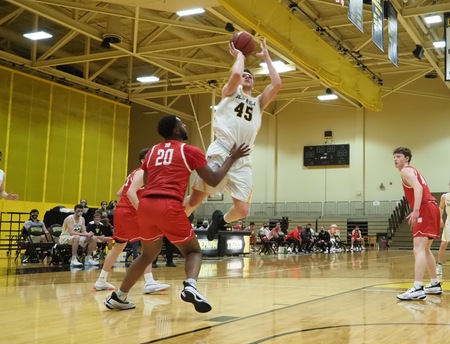 In a year of uncertainty, setbacks, and restrictions, the DePauw men's basketball team has had one of the best starts to a season in program history. They currently boast a 10-1 record—and started the season 7-0 which is the best start in team history since the Tigers went 11-0 in the 2001-2002 season. They have five players averaging in double figures and shooting an astounding 56% from the field. One of the main reasons why this team has been successful is how close the players and coaches are as a group.
"We've got really good people who really care a lot about each other. [They] trust each other and trust that the things that we do work if we execute them in a certain way. And that can carry you a long way," Coach Bill Fenlon, who is entering his 28th season, said. 
The men's basketball team is led by a strong class of six seniors. Four out of the five starters for the Tigers are in the class of 2021 and have all enjoyed career highs in many statistical categories. Seniors Nick Felke and Nolan Ginther average over 17 points per game. Senior Aaron Shank is putting up nearly 14 points a game, and senior Josh Hall is averaging 11 points a game. 
"We have a good senior class with some talented guys who have played quite a bit, who know the things that we're doing," Fenlon said. The team's leading scorer, Nolan Ginther, has been getting plenty of recognition for his elite play so far. The 6-foot-5 forward from Noblesville, Indiana, was named the North Coast Athletic Conference Men's Basketball Athlete of the Week twice this season. Ginther was grateful to get the awards but also credited the team for winning the games which led to the recognition. 
"It always feels good to get the recognition, but I wouldn't get recognition if we weren't winning as a team," said Ginther. "So it's all about first team success and then comes individual recognition, and feels great to keep winning." 
With the entire senior class healthy and available to play, this season has been even more special for the group of upperclassmen. Senior Matthew Godfrey missed the entire junior season because of a torn ACL he suffered in practice before the first game. Senior forward Josh Hall played just 11 games last year due to injury as well. "It's really incredible that we've been able to stay together. We fought through some injuries as a group over the years and it's awesome to have all of us on the court this year," Hall said.
Fenlon has enjoyed watching this senior class grow up as students and players since they were freshmen. "I get to bear witness to people's growth, on and off the court and that's the part of the job that I actually enjoy the most," Fenlon said. "With this particular group, it's been incredibly rewarding, because they've all gotten better as players and they've all taken advantage of the other things that a place like DePauw has to offer."
Fenlon has also established a team motto, "keep playing," which has galvanized the team. Fenlon said, "We want our guys to have a mindset that whether what just happened was good, bad, or whatever, you got to get on to the next thing and you just gotta keep banging away with the same energy and the same enthusiasm." 
This "keep playing" mentality was on full display when the Tigers were down 18 points in the second half to Wooster a couple weeks ago. DePauw slowly chipped away at the deficit and won the game 100-97. Ginther said, "When anything goes bad in the game, you always hear coaches and people on the bench saying 'KP, keep playing…' We'd go on little runs, and there's always still hope and trust in my teammates that we were going to be able to come back even if we were down 18 with 16 minutes left." 
That trust that the teammates have in each other and the "keep playing" motto propelled them to the comeback victory against Wooster and a national ranking in the D3 national poll. 
DePauw's stout senior class haven't been the only players contributing to the team's hot start. Sophomore guard Elijah Hales, who is the lone underclassmen in the starting lineup, is averaging 11 points per game this season. Hales also scored 26 points in the comeback win against Wooster and went 7-10 from 3. Underclassmen Nolan and Grant Neigo have both made good contributions off the bench as well. 
"They've been a huge part of our success," Ginther said. "There's a lot of younger guys that might not be seeing the floor a lot that also contribute a lot to our success in practice, and just getting us extra breathers when we need it in games." 
Fenlon and the team have been very "grateful" for every game they've played, especially since the COVID-19 pandemic left the team unsure if they would play a season at all. The season looked pretty bleak during most of 2020, so the team is enjoying every moment they have.
"I was afraid I was never going to get to coach them again," Fenlon said when talking about sending home his players back in the Spring of 2020. However, with the season in full swing again, the team is taking this season "day-by-day." 
Even with the conference and NCAA tournament being cancelled, the team is still embracing this unique season and not taking any of it for granted. "I just think [the players] recognize that these circumstances are very unique, and we're really lucky to be able to take another crack at it together," Fenlon said.