What better way to start off your fall than with some live jazz music? Jazz at the Duck, hosted at The Fluttering Duck inside the Inn at DePauw, is officially back in full swing for the year. The event takes place every Thursday from 8:30 to 10:30 p.m., and is free for everyone to attend (though anyone in attendance should try The Fluttering Duck's delicious Spinach & Artichoke Dip)!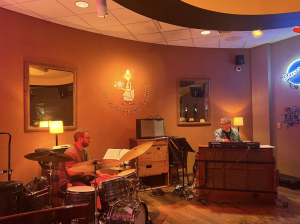 This Thursday, Sept. 21, the show featured Steven Snyder, jazz professor at DePauw and original curator of Jazz at the Duck, on piano. Snyder began playing the piano when he was five years old, as shared by his mother, Sue,who comes to every show that her son plays! Since then, he has performed internationally and has found his home in teaching jazz ensembles, improvisation classes, and various jazz classes in DePauw's School of Music. He was accompanied by local percussionist Ben Hogan, whose groovy drums complimented Snyder's piano melodies perfectly. Though their impressive two-hour setlist was full of infectious tunes, one of the musical highlights of the night was their mellow rendition of "Killing Me Softly With His Song."
The event already has a loyal fanbase. Sophomore Anna Poklar has attended numerous Jazz at the Duck events since she arrived on campus last fall. "My favorite part of Jazz at the Duck is getting a chance to broaden my horizons and listen to a kind of music that I wouldn't normally," she says. "It has heavily impacted my college experience because it pushes me out of my comfort zone in a no-risk way and grants me with connections, like with the musicians, that I never would have made otherwise."
Do you or a fellow musician want to get involved with Jazz at the Duck? Jam sessions will take place on the first Thursday of every month, with the next one occurring on Oct. 5. These jam sessions welcome students and musicians of all skill levels. However, if you simply want your fix of jazz music for the week or are looking for fun ways to spend your weeknights, there will be live jazz every Thursday featuring various talented local musicians.