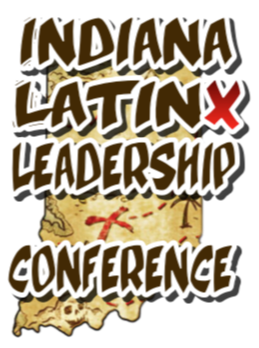 To celebrate high school and college students with Latin American and Caribbean heritage, the 2023 Indiana Latinx Leadership Conference was conducted March 4 at DePauw University's Green Center for the Performing Arts (GCPA) and Hoover Hall conference rooms.
Featuring interactive workshops, live performances, and multimedia exhibits with the theme "Does 'X' Mark The Spot?: Exploring Identity, Community and Latinidad in Indiana," the event aimed to encourage meaningful conversations between students and instructors about the historical backgrounds and cultural identities of those who identify as Latina/o/e/x/a individuals.
Highlighting the impact of the conference on cultural exploration, DePauw administrators and guest speakers such as Dr. Nic Flores from DePauw's Class of 2012, filmmaker Kurly Tlapoyawa, and Lillian Casillas-Origel from Indiana University (IU) Bloomington presented their introductory remarks at the Kresge Auditorium of GCPA. Outside the auditorium, tables with various academic and professional resources were provided for students to connect with relevant organizations and institutions.
Afterward, attendees were given a wide selection of conference sessions which were divided into high school and college tracks. Select DePauw students served as presenters, moderators, and volunteers across different session venues to guide attendees throughout the event and ensure the smooth flow of the program.
Moreover, the morning sessions incorporated various academic and professional talks such as Tlapoyawa's presentation on the Mexica/Aztec calendar, DePauw students' discussion about Greek life, and cultural forums with Elias Becerra, Nancy Garcia, and Bianca Foronda from IU Bloomington. Students were also given the opportunity to engage in a Mariachi Jam session or a gallery and poster session at GCPA.
Following the first half of the program, attendees gathered at Hoover Dining Hall, where they were serenaded by a live musical performance by IU's Mariachi Band, led by Dr. Javier Leon.
Workshops and panel discussions resumed during the afternoon sessions, which involved film screenings hosted by Tlapoyawa and poet and filmmaker Greisy Genao from DePauw's Class of 2018, a native dance performance by a Central American mother-daughter duo, and a hands-on training session about digital media hosted by Dr. Marisa Hicks-Alcaraz and staff members from the IU Institute for Digital Arts and Humanities.
During the event's closing convocation, Genao and John Mark Day, DePauw's vice president for Student Affairs, encouraged all students to promote their cultural heritage in their future academic endeavors through their acquired knowledge, to build a new generation of leaders who will inspire their native communities.