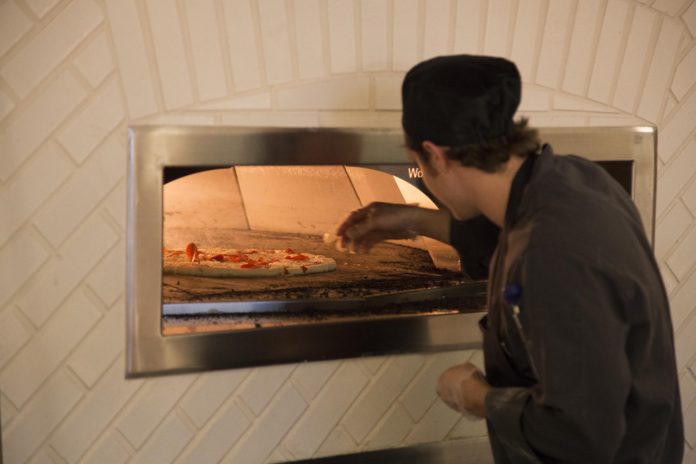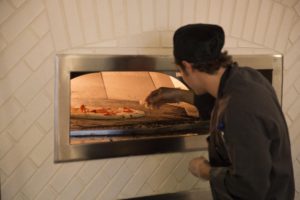 A line of students and faculty members waiting for lunch snaked out the doors of Hoover Hall on its opening day Monday.
"I like Hoover so much that I woke up early before class so I could go to breakfast and eat a waffle," said first-year Anna Horak.
Hoover Hall officially opened on Monday, creating a new place for all members of the DePauw community to eat. Hoover replaces the Hub Dining Hall which was shut down and torn down at the end of last school year and the Den in Longden Hall.
Hoover was originally set to open at the end of the spring 2015 semester, but due to budget concerns it opened almost a year and a half later.
First-year, Everett Wise, ate breakfast there and was happy with how the food turned out. "The pancakes are the opposite of hockey pucks," Wise said. "They're warm and fluffy."
Some students are stunned by the interior of the building "I think it's beautiful," said junior, Mckenzie Allaben. "I think it's good that DePauw has something like this and we needed to take that first step in updating our campus and I think that Hoover hall is a great kick-off."
While some students are excited, others would appreciate some changes in the arrangement. "I still wish they would label exactly which animal product is in each dish though, for people who are not familiar with American food," said sophomore, Peper Langhurt, "Or even Americans with dietary restrictions, y'all know what's in chorizo?"
Other students could not help compare Hoover Hall to other buildings on campus. "It's really nice, but what was the logic behind building an entirely new dining hall when we have freshmen dorms that are in utter disrepair and a library that desperately needs renovation," said sophomore, Emily Troyer. "To me, the place where you live and the place where you pursue academics should always take precedence over a shiny new building."
John Hecko, general manager of Bon Appetit, is excited to be using the new facility where everything is made in front of students.
Along with a new kitchen, Hoover is updated and renovated to be energy efficient. According to Warren Whitesell, the project manager for Hoover Hall, the building has reached Lead Gold Status. This means the building performs more efficiently in energy and gas usage. "We not only wanted to increase the aesthetic of the building, but we wanted to improve the functionality," Whitesell said.
Whitesell knew he wanted to put Hoover in a central location on the campus so students will want to come. Hecko is excited that the new building will be a central location on campus not only for students, but also his staff. "The biggest deal for me is that all of my staff will be under one roof," Whitesell said. "It helps build my team and what we want to do."
He hopes it can be seen in the development of the menu and communication between his staff and students. "We want to be healthy, we want to be sustainable, we want to be local but we also want to incorporate what the students want," Hecko said.
Bon Appetit is committed to creating a great space students will want to come to. "We know closing the Den is something that students don't want but change is sometimes hard," said Hecko. "We've found that the students like to give feedback and we hope to build an open line of communication with students."
Students should not fear losing the beloved buffalo chicken wrap. "I challenge them to look at items that were top sellers and incorporate them into the late night menu," he said, "I can assure you that it will be."