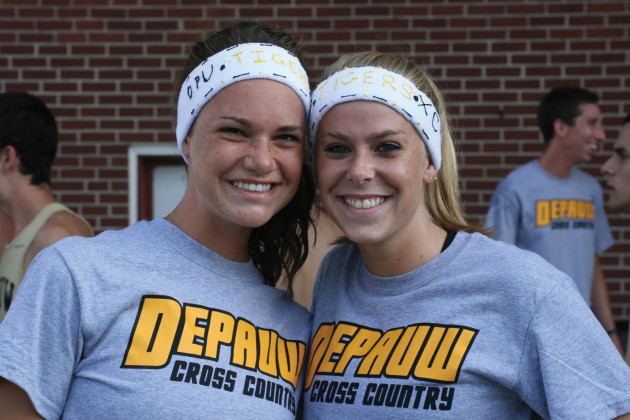 At a cross-country race hosted by a school of all male students, it was the DePauw women's team that walked away with top honors.
The Tigers won the women's race Saturday at the Wabash College Hokum Karem with nine points, beating out second-place University of Indianapolis by seven points. The men finished in fifth place with the Wabash Little Giants running for a perfect 1-2-3 sweep and their second consecutive win.
Senior Lisa Becharas and sophomore Siri Retrum teamed up to win the women's four-mile relay race, which features pairs of runners alternating one-mile loops through the Wabash campus. Junior Noah Droddy and sophomore Adam Cecil finished first for DePauw at 12th place in the men's six-mile relay.
"It's not your typical six-kilometer race, but it's definitely fun and it's a good challenge," said freshman Megan Everhart.
Everhart and her partner, senior Kelsey Moore, finished in third place, fifth overall. Senior Claire Hollis and freshman Hope Jordan rounded out the Tigers' score at third overall. The men's team finished fifth overall in the event.
"Unlike the women, the men, where we struggle, we don't have very good depth right now," head coach Kori Stoffregen said. "We have a couple people hurt and a couple of people who need to get some work done."
Sophomore Stu Newstat and senior Pete Richard, along with sophmore Kane Barker and senior Nathan Kober, rounded out the men's score with finishes of 15th and 22nd, respectively. Senior Tyler Giesting, normally a top contributor, is out with a stress fracture.
"It was a disappointing meet for us," Stoffregen said. "I don't know if we've ever been fifth place at the Hokum Karem."
Stoffregen said heat had a big impact on both teams' performances in the early season race.
"It's really hard to run in that kind of heat, and it's really easy to get off your game when it gets hot," he said. "We saw that with a handful of guys, and there were some girls who did the same thing."
Retrum and Becharas both said the heat was a factor in the women's race, which started after 11 a.m., but remained positive about the team's performance.
"That definitely was not very fun (the heat), but it was a handicap to not only our team but the rest of the teams," Becharas said. "But if we can run like that in the heat, I can't wait to see what we can do when it's cold outside."
The men's and women's cross-country teams will next compete on Sept. 16 at the Indiana Intercollegiate meet in Bloomington, Ind.