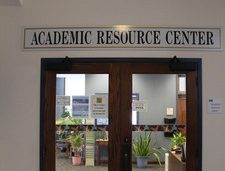 Upcoming structural changes may impact the Academic Resource Center's (ARC) current leadership as the tenured director position will be replaced with a termed position. 
Tim Good, chair of the committee on curricular planning  said the future of the ARC is to ensure that it is staffed by trained professionals. 
"Not just people who are good at speaking in writing, but people who are trained in the teaching of speaking and writing." Good said.
Wilson described a tenure line as a succession of position holders who are tenured, as opposed to a term position holder. Wilson also said a term position holder is a position that is only held for a set period of time, like a year or two. 
"If you're going up for tenure, you are making it a commitment to the University and the University is making a commitment to you that you are going to fulfill this professional role," Wilson said. 
Tenure lines also maintain flexibility in hiring and are utilized to help department programs transition, according to Good.
According to Hahn, these proposed changes to the ARC's leadership structure puts the resource's future "up in the air."
English professors Susan Hahn and Susan Wilson are two of the three directors of ARC. Hahn said that she has been told that there will be a three year contract for a "term" director next year. 
The ARC is a 20 year-old tutoring service that provides Speaking (S), Writing (W) and Quantitative Reasoning (Q) resources. 
The impact of the ARC has been highlighted by ARC student tutors and their tutees. Senior W tutor, Haley Allaben, said that working with students on their writing "seems to help" students.
First-year Jess Gaumer agreed with Allaben. Gaumer has already utilized the Q center several times in the last month for help in Chem 120. 
Updated February 4, 2020