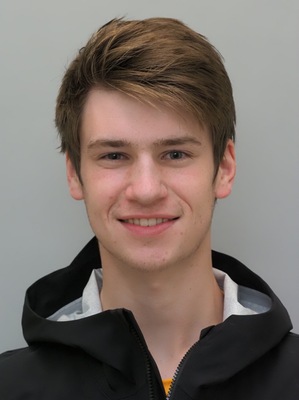 Ford Baker wasn't even running track and cross country when he started high school. Now, he's DePauw's record holder for the 3000-meter run and he's only a sophomore.
"I was on the soccer team my freshman year, and I kind of fell out of love with the sport. And a majority of my friends my freshman year were actually on the cross-country team. So I just decided to join it sophomore year because that's where all my friends were," Baker said.
Baker's switch to cross country turned his athletic career around. Baker picked up cross country and track pretty quickly, but was still "apprehensive" about wanting to run cross country and track in college going into his senior year of high school. However, a breakout cross country performance his senior year in the state race opened his eyes to the next level.
"I finished the race thinking, wow, that was one of the best races I've ever run, but I know I can do better, and I know, like, I have more left to give. So I continued talking to a few of the coaches that I'd been in conversation with, just keeping the option of running (in college) open," he said. After cross country, Baker also had a great senior track season and he later decided to continue his running career at DePauw University.
In Baker's short career at DePauw, he has already accomplished more than most track athletes could hope to achieve. Not only did Baker break DePauw's 3000-meter record, he has also earned NCAC Men's track and field athlete of the week, four times this season.
"He's a great talent, we knew he's got it in him," head coach Kori Stoffregen said.
In leading up to the last meet of the season against Manchester, Stoffregen pushed Ford to go for breaking the record and he believed he could do it because of Manchester's fast paced runners. But breaking the record would've been a big jump for Baker so he was pretty nervous the week before the race. "It would have been a big jump in time. Last year I ran eight forty-two in that event. The previous school record was eight thirty three, so it was a big jump in time," Baker said. "I was apprehensive the entire week, and I think [Coach Stoffregen] was frustrated with me that I was a little bit nervous about it because he knew that I could do it, but I didn't have the confidence in myself at the moment," Ford explained. But once the race came, all the nervousness went away, and Baker ran the best race of his career.
"When the race eventually came, I just said, you know what, just go for it. It's the last race of the season. There's no point in not just going for it… Everything came together and it was pretty surreal breaking it," Baker said.
"It was just a perfect race for him," Stoffregen said. "[The race] had someone who led the way the whole time and he just kind of followed. Then about the last eight hundred [meters], he was able to take the lead and just got faster and faster," Stoffregen added.
After the race, it was difficult for Baker to pinpoint how he became a record holder when so many all-american runners have come through DePauw. Ford asked himself after he broke the record, "Why was this me, the person who is able to do this?" Baker credited himself for focusing on taking care of his body and knowing his limits when he is running, putting quality running over quantity.
"Listening to my body and listening to what it's telling me. Prioritizing feeling good, over getting an extra few miles… It's more important to me to feel good hitting mileage than hitting a numerical goal," Baker added.
He also gave credit to Coach Stoffregen and the workouts he put the team through over the course of the season. Baker explained how Stoffregen puts him through strength workouts in the beginning of the season and then progressively incorporates speed training. According to Baker, this plan has worked well and has contributed to his success.
Stoffregen also emphasizes the importance of building the runner's confidence through his workouts. "It's not so much physical, it's a mental game. It's always confidence," Stoffregen pointed. "We try to do workouts where the kids are gaining confidence each week and so on," Stofregen added.
"He's [Stoffregen] really got it figured out and found a formula that works. I think I'm one of the people who it's just kind of really clicked with and that's how it's come together," Baker said.
Looking ahead, Baker has his eyes on becoming one of the best runners in the country at Division lll when it's all said and done.
"I really hope to be an all-American in cross country, and maybe even indoor and outdoor track. So getting an all-American and all three of those has been a lofty goal of mine," Baker said.
After college, Baker is interested in pursuing a career in consulting. "I feel like consulting is something that pays really well with a liberal arts education, because in consulting, no project is ever the same. It's constantly changing. Dynamic, new customer, new project, a new team," he said.
Baker also talked about how he will take the lessons he's learned from running into the workforce. "(In cross country) you're the only one running that race. You don't get any timeouts. You don't get to stop unless it's a dire necessity," Baker said. "It teaches you how to be self-sufficient. But you're also running for your team, so your team does well. I think that kind of mentality of you taking responsibility for your piece, but also working as a team is something that is really important in the business world and in consulting as well."