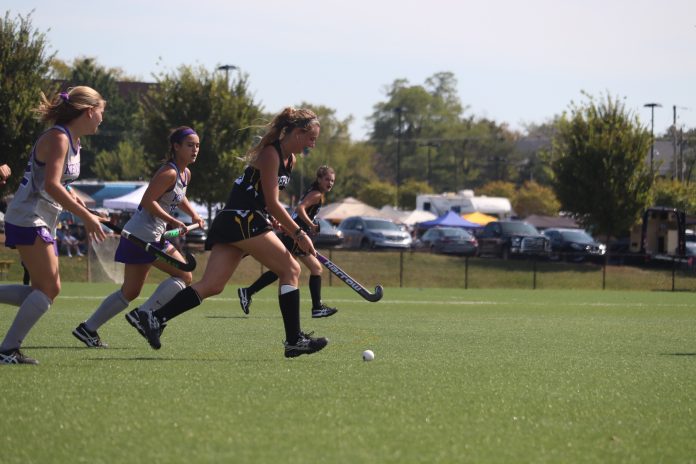 The DePauw field hockey team started off family weekend at home with a loss in their first game against the Kenyon Ladies, losing 1-3.
In the first quarter, the defense allowed only three shots on goal, two of which were saved by DePauw goalie, Allie Duranceau. However, in the second quarter, Duranceau and her defensive teammates were only able to fend off one of three shots on goal and the Ladies brought the score up to 2-0. The third quarter brought yet another goal by the Ladies, tallying the score at 3-0.
With a few minutes left, senior Gretchen Bechthold fielded the corner and passed to sophomore Maddie DeAscentis who deflected the ball into the goal. Unfortunately, the Tigers ran out of time to make up more points, making the final score 3-1 Kenyon.
First-year Allison Quakenbush said, "There were many factors that played into the outcome and one that I believe is big to our team is that three of our players had injuries this weekend and couldn't play."
Quakenbush explained that the Tigers have a small team in general, so with fewer subs due to injury, they had a hard time competing in the 90-degree heat.
"Speaking for the whole team, I know we have a great season ahead of us and now we know how Kenyon plays so we can bring more fire next time we see them in a conference game," Quakenbush said.
Overall, Coach Lauren Thomas said the team overcame adversity this weekend.
"A lot of our skills were there, but if they weren't, we were playing through it," Thomas said. "But it was those uncontrollable pieces: playing two completely different teams, you know, trying to adjust to the officiating of very different officials. If we were feeling frustrated just, to the best of our abilities, putting it out in our skills and ultimately coming out with a win."