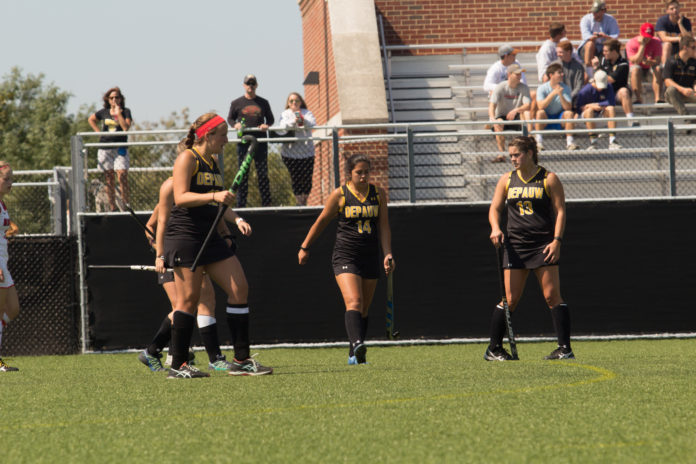 DePauw's field hockey team split their opening two games of the season, as they travelled to Sewanee, Tennessee this past weekend. After finishing just under .500 last season with a 9-10 record, the women looked sharp in their first game against the host Sewanee, winning 3-2. The defense played well, only allowing 4 shots on goal. The star of the game, however, was senior Kate Milner who scored two goals scored.
"Kate has gained a lot of playing experience throughout her career here at DePauw," Head Coach Lauren Thomas said. "The experience she has in games along with the solid hockey skills she has attained, sets a high level of skill and play on our front line." 
Coach Thomas also praised the duo of Milner and senior captain Alexa Steil, saying that despite the rotation of underclassmen on the top line, the two seniors never fail to impress.
When asked about what the team did well over the weekend, Steil said, "The team did a good job with working together and communicating throughout the games. We were able to connect passes and set up the press to maintain possession on our half." 
This showed, as DePauw outshot Sewanee 12-7, and was able to maintain their 3-2 lead for the entirety of the 4th quarter.
DePauw then moved on to day two, where a matchup against the Lynx of Rhodes loomed. The Tigers fell short on Sunday, losing 5-0, despite the best efforts of sophomore goalkeeper Allie Duranceau and her 12 saves on 17 shots.
"Rhodes is always a competitive game for us and though the scoreboard may show differently, our team played a clean and intense game of hockey," Thomas said. "Allie played tremendously on Sunday despite the final score of our game, and she was able to make multiple saves for her teammates and was really put through the ringer."
After sitting the entire year as a freshman a season ago, Duranceau comes in as the only goalkeeper on the team, and leaves this tournament with a GAA of 4.08, and a SV% of .667. 
Coach Thomas emphasized the importance of clearing the ball immediately after Duranceau makes her first save. If the Tigers achieve this, it seems that the numbers will only improve for the team.
DePauw field hockey is looking to qualify for the NCAC championship in November. Thomas is impressed with her squads chemistry and said that the women are already closer than last year's team. All in all, she reiterates that the team has to remember why they play, "and to use the opportunity to play as a way to have fun, be competitive and working hard for ourselves but equally as important teammates."