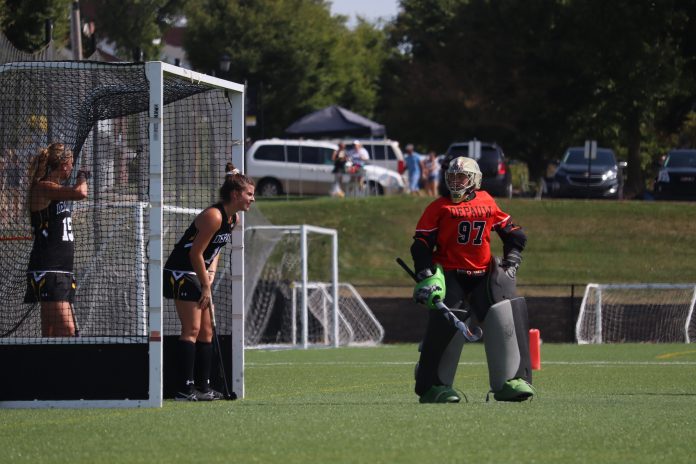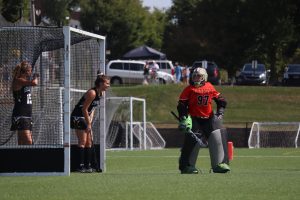 The Tigers came back with a win during the second game of the weekend against the Concordia University Wisconsin Falcons. The Tigers beat the Falcons 4-3 in overtime, despite both teams putting up a fight throughout the game.
The first quarter was mostly back and forth, with both teams constantly attempting shots. Near the end of the first quarter, Concordia made a goal off a rebounded save.
At the beginning of the second quarter, senior Kate Milner tied the game 1-1 with an assist by sophomore Sarah Goff. With just a few minutes left in the second quarter, Goff made a second assist after crossing the ball to first-year Allison Quakenbush, who tipped the ball into the goal and put the Tigers in the lead 2-1.
After the game, Quackenbush said, "It feels very rewarding to have already scored two goals in my collegiate field hockey career. I have been playing for awhile and have worked very hard to get to where I am now on this team and at this school."
Third quarter, Milner initiated her second goal of the game off a corner pass to senior Maddie Little. Little passed it back to Milner who successfully shot, bringing the Tigers up 3-1. Not long after, the Falcons fought back with an unassisted goal by Sam Dunn, making the final score of the third quarter 3-2.
"I think we were really excited to go to a new game coming out of kind of a rough game yesterday," said Milner. "We were all a little tired and a little sore for sure. It was a physical game yesterday, but we were definitely fired up and wanting to get a good win."
In the fourth quarter, the Tigers changed their play by pushing their backline forward to further their attack. The Falcons saw an opening and used it to to tie the game just seconds before the fourth quarter ended.
The game carried over to overtime. After being substituted in, junior Cathy Zesiger found Milner and assisted her with the winning goal––Milner's third goal of the game and second winning goal of the season.
Milner said of Sunday's game, "It was really back and forth. A lot of highs and a good amount of lows too, but I think in the end we were all really excited to get a good win. We didn't necessarily want it to go into overtime, but it's nice to come out with a win either way."
Addressing how the team shifted gears between the two games, Coach Thomas said, "We maybe got a little bit in our heads yesterday when we were frustrated. Today, we definitely put that more into our skill. If things weren't going our way, we were coming back from it. Just a little cleaner, a little harder."
When asked how the team could improve for the rest of the season, Thomas said, "We can continue to work on our team play overall: connecting passes, team morale, and team bonding, which is big. But consistency is the big thing, so training is going to get us there."
DePauw will begin its North Coast Athletic Conference campaign next week on Saturday, October 5 at 11 a.m. against Ohio Wesleyan.