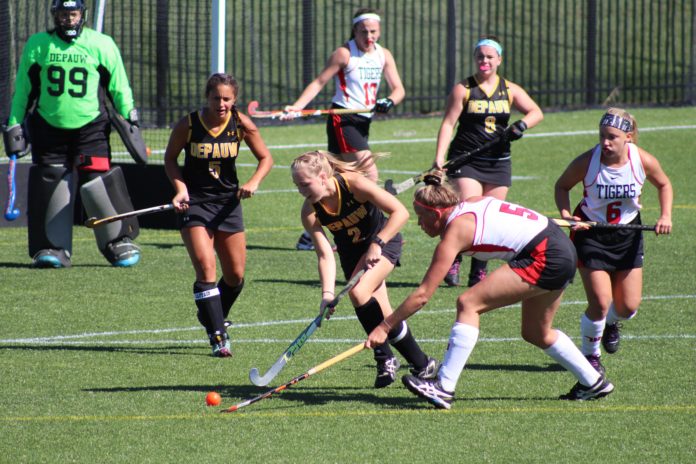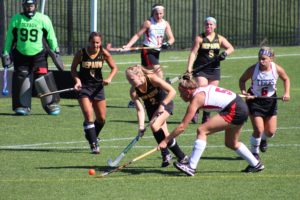 The DePauw women's field hockey team beat Wittenberg University 3-1 on Senior Day at Reavis Stadium on Oct. 8. The Tigers improved to 10-3 overall and 7-1 in the NCAC, remaining at the top of the conference standings. 
The game started off as a back and forth battle, with stops from both goalies. 26 minutes into the game, Wittenberg was called for a foul in the circle, and DePauw first-year forward, Kate Milner, scored the opening goal of the game.   
The Tigers capitalized on their momentum and Milner scored another goal less than four minutes later, with senior midfielder Addie Ball getting the assist. The Tigers would go into halftime up 2-0.  
Wittenberg scored in the second half in the 44th minute, with a goal from Riley Trexler,  bumping up her season goal total to 14. DePauw would respond and extend their lead in the 53rd minute, this time with a goal from Ball off of a penalty corner, assisted by sophomore midfielder, Rose Revolinski.  This was Ball's sixth goal of the season. The game would end with the Tigers winning 3-1.     
Sophomore goalie Sarah Foye made six saves, and Milner's goals were her sixth and seventh of the season. The Tigers outshot Wittenberg 14-12  in the match.  
Senior defender Annie Wyman led the Tigers in a strong defensive performance, thwarting Wittenberg attacks numerous times. She believed this game was pivotal to the Tigers' continued success.    
"I thought we played really strong. It was a close game last time we played Wittenberg, so we had to come out strong and really define the rest of our season with this game," Wyman said. "Last game we were pretty scrappy and weren't as in control of the ball. This game we definitely controlled and dominated the entire time."
Ball also felt the win was important for the team. "We really wanted to show them who DePauw field hockey is and really make a statement in the conference because we're here to win and we're not going anywhere," she said.   
"I think that we worked really well as a team," said sophomore Grace Waldman. "Our passing game was a lot stronger than theirs. We connected and our transitions were very good."
The Tigers host Wooster on Saturday, Oct. 15 at Reavis Stadium.