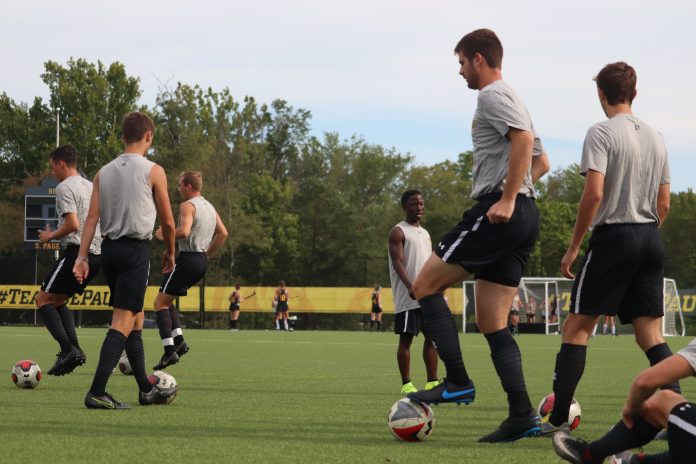 Men's Soccer:
The DePauw men's soccer team is off to a strong start following a blowout 11-0 victory against Anderson on Tuesday. The Tigers hold a 2-1 record since winning one out of two games at the Berry Invitational this past weekend.
Head coach Brad Hauter expressed his optimism about the team prior to the games and gave insight into his expectations for the season.
"I think we have a very talented group and I'm excited to see how we come together," said Hauter.
Hauter acknowledged that the team lost a strong class last year, specifically player Andrew Gold 's leadership and athleticism.
This is not to say that the team hasn't recouped some of the since graduated talent.
"We have an incredibly talented group of first-year players and many guys that will play a role this year," said Hauter.
According to Hauter, First-years Gabe Edwards and Quinn Flaspohler are standouts. . Additionally, sophomore Jack Schrepferman and junior Jake Limauro have improved significantly since last season.
Senior team captains Jay Klein and Sam Kramer also gave their take on the coming season.
"This season I am most excited for the quality of soccer that our team is capable of displaying," said Klein. "We have so many talented and technical players this year and I am really looking forward to seeing to seeing all of our hard work shine during the season and hopefully postseason."
Kramer focused on the positive culture of the team.
"Everyone is very competitive and we get along well," said Kramer. "We have done a great job at preparing for the season and everyone is excited to get on the field each and every day."
Men's soccer plays again at Franklin on Tuesday, Sept. 10 at 7:30 p.m.
Women's Soccer:
Following two close losses in their tournament this past weekend in Dallas, head women's soccer coach Cristin Allen remains optimistic about the team's potential for the season.
"This team is capable of winning a NCAC Championship and making a run in the NCAA Tournament," said Allen.
Allen is confident in the team's skills, saying, "We have the talent, depth, work rate and mentality to compete with anyone we play this year."
Allen also mentioned new techniques that the team is practicing to improve morale.
"We are focusing on the process of us getting better both as individual players and as a team. And are focusing on the process of how to win games and not just stay in games."
This is Allen's first year at DePauw. and she said she couldn't choose a single impressive first-year on the team.
"As far as freshmen who are standing out, we have quite a few, so its difficult to pick just one," said Allen.
Senior team captain Jenna McCaroll sees a lot of potential in this year's team.
"I am continually excited about the opportunity to work with such a compassionate and hardworking team as well as coaching staff day in and day out," said McCaroll. "The drive we have this year is different, therefore I'm so looking forward to what we can accomplish in the next couple of months."
Women's soccer plays again at home against Carthage tonight at 7:00 p.m..