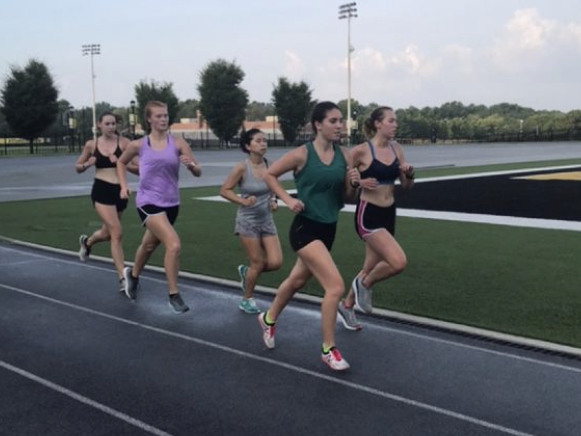 Men's XC:
Following a North Coast Athletic Conference (NCAC)  champion title and qualification for the Division III National Championship meet, the DePauw men's cross country team is looking to repeat its accomplishments from last year despite the loss of a strong class of runners.
Recent graduates Zack Batt, Paul Christian and Spencer Miller  were members of the national meet squad that placed 20th last fall.
This year, the team will return with four members of its nationals roster: senior Cole Martin, junior Aaron Worley and sophomores Zane Williams and Miles Main. 
Regarding rebuilding, the team has an entering class of seven first-years.Ford Baker is a stand out following a win in the team's annual intrasquad 2 mile time trial.
Team captains Noah Boyce and Cole Martin both talked about their hopes for the season and their views on team culture with the arrival of the first-years.
"It's good to know that when you go to practice or a meet you'll have a group of supportive teammates by your side," Boyce said.
Meanwhile, Martin talked about the team's season in a more general sense. 
"I would like for our best races to come at the end of the season," said Martin, adding that he believes this will help put the team in position for success. 
Head coach Kori Stoffregen also talked about his expectations for the season, "Our men's team was hit hard with graduation. This will be a great opportunity for the younger guys to step up and help us defend our back-to-back conference championships "
Men's cross country starts their season this Saturday  at the Grizzly Invite in Shelbyville.
Women's XC:
The DePauw women's cross country team is looking to surpass its  4th place finish at last fall's conference meet by building on their momentum g as well as  a strong incoming class.
The women's team saw the graduation of only two members this past spring, Gabby Coffing and Sarah Selzer, and is introducing a class of five new runners.
Out of last year's NCAA Regional meet roster, seniors Haley Thompson and Riley Hickman return along with sophomores Jenny Noll and Kate Hennessey.
Sophomore Lannea Allen is also returning from last year's roster, but is currently out due to an injury.
Team captains Riley Hickman, Tori Flowers and Haley Thompson  talked about the goals that they have for the season.
"I'm looking forward to seeing how well our team does,"  Hickman said. "I think we have the opportunity to improve on what we've done in past years and I think if we work hard, it can be a really fun season."
Flowers talked about the goals she has for the team, "We want to stay physically and mentally healthy while also remaining competitive in every race." 
Thompson mentioned the importance of team camaraderie, "I'm looking forward to getting to know everybody and bonding as a team." 
Head coach Kori Stoffregen also mentioned his predictions for the team, "The women have the pieces to put together a great team," Stoffregen said. "If we stay healthy and gain confidence in our racing, we can have one of our best seasons in recent years."
Women's cross country starts their season this Saturday at the Grizzly Invite in Shelbyville.