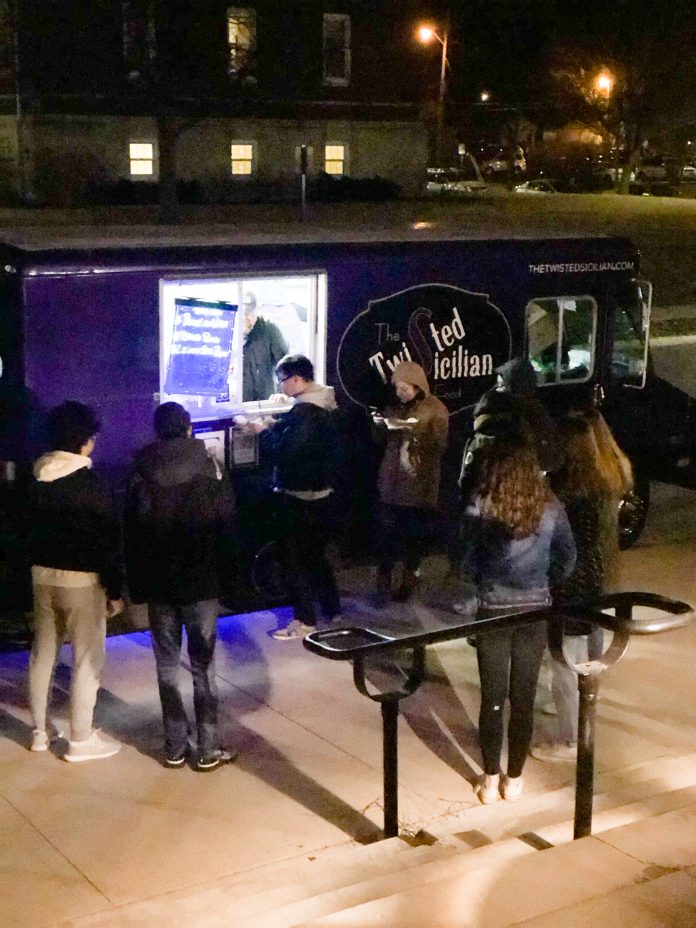 Food trucks, giveaways, and bubble soccer. All of these things can be found at DePauw After Dark events. DePauw After Dark is a program dedicated to providing after-hours activities for students.
"Anything DePauw After Dark related is going to be after 8 pm on a weekend, and it's our way to provide more things to do in Greencastle," said Elizabeth Getz, Coordinator of Campus Activities and Alcohol Programming.
According to Getz, DePauw After Dark was created six years ago.
"We revived it this year, made it a new logo, and advertised it as our way to promote social events on campus and late night programming on the weekends," Getz said.
DePauw After Dark is also an alcohol prevention tactic. Getz explained that the organization provides social programming for students that's not alcohol related which partially combats alcohol consumption and other high-risk behaviors.
DePauw After Dark hosts numerous events throughout the year such as Free Final Friday, where during the last Friday of the month students can receive a free item from local businesses like Starbucks or Dairy Castle.
The effort also brings food trucks to campus, which are free to students. Getz noticed that these events have been the most popular.
In order to fund these activities, DePauw After Dark utilizes the student activity fee, which was $296 per student this year, and that's why they're open to all students, according to Getz. "I'll say it's a significant portion of the student activity fee, which is why we try and host as many events as possible that are a wide variety."
DePauw After Dark usually spends $2,500 to $3,000 on each food truck, depending on the type. "Those are closer to 300 and 400 students who come to the food trucks, and then that's about when it caps because they run out of food," Getz said. This past Friday, Getz expected around 350 people for the Twisted Sicilian food truck.
However, cheaper events like game nights and mug decorating usually cost about $4 to $15 per student.
DePauw After Dark also provides funding for events like free concessions at basketball games and Ashley Square cinema. They also sponsor trips to Pacer and Indy Fuel games. This cost is typically $30 to $40 per student. These costs include the shuttle and the ticket to the game.
Junior Helen Amarro said she enjoys DePauw After Dark events because they give her something to do after class for free. "I like them because I think it's great to do some events for students. Especially since we're so isolated, and there's no readily available entertainment,"
Another student, sophomore Jasmine Cervantes, said DePauw After Dark activities give her something to do besides watching Netflix.
"I go because usually they have free food, because who doesn't like free food, and also good time with friends." Cervantes said.
Next Friday DePauw After Dark will be host BYOB mug decorating and serve Portillo's at the event.