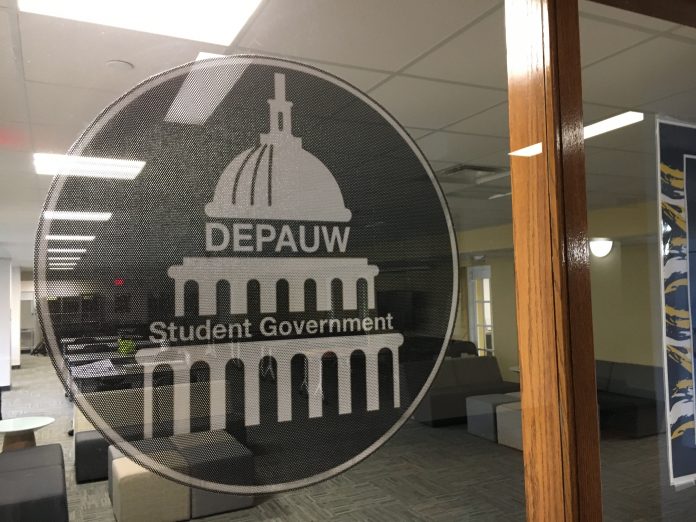 DePauw Student Government has introduced constitutional amendments to decrease the number of senators in the student senate and to increase the general clarity of the document. The vote on the amendments by the general assembly will take place September 28 at 7 p.m. in the UB ballroom.
James O'Keane (he/him), senior student body president, said "There are going to be some pretty major changes that affect the student body. The first is the number of senators that are in the student Senate. This number has been cut from 20 to 10, which allows for two senators per each academic class and one for each academic school."
He said that there are currently 10 senators: one representing the School of Music, one representing the College of Liberal Arts, and two for each grade level. This will have to change again once the Business School and the Creative School are running. The number of Senate members has been changed, but not yet passed, since the constitution has not been updated since 2014.
O'Keane said reducing the number of senators allows for better communication within the cabinet, since there are less members to be accounted for.
He said another change includes the student club and organization recognition process, because organizations can be recognized and receive different types of funding.
"We simplified that tremendously. If you want to be DSG recognized but not receive our funding, that is possible. But, if you want to be recognized and receive funding, that's possible as well," O'Keane said.
According to O'Keane, these changes are being made in order to increase the efficiency of DSG and allow for a smoother operation within the cabinet.
"Our allocations board used to consist of students who were in DSG and non DSG and that's now comprised fully of (student) senators. It's really kind of rebalancing the powers between the Senate, executive board, and our general assembly. A lot of good changes," he said.
O'Keane said that he is hopeful that these changes will make DSG the most effective that it has been in years.
"As president, one thing that has undermined the job description is to interpret ambiguities in the constitution and my goal was to have no ambiguities there. I wanted [it] to be a very close knit finalized document," he said.
O'Keane said the constitution has been updated in the past, but it never went through the formal process to be ratified. In order to follow the rules that DSG had set forth, they reverted back to the last formally ratified constitution from 2014.
He said the process of creating constitutional changes is in depth, and takes place over three main stages. It first needs to be passed by the DSG executive board, then the senate, and then the general assembly consisting of student organizations.
Paige Burgess (they/them), sophomore chief of staff, said, "there were a lot of outdated terms or acronyms for groups that didn't exist or there were positions that were no longer relevant. It was a lot of things because we were working on a basic constitution from 2014, which is the last time that it was updated."
Burgess added that DSG added descriptions to the roles of DSG, fleshed out the parts that existed, and made sure that the student organization recognition process was still adequate.
"We had to look at things like the number of Senate members which had been changed and hadn't been passed. So we had to look at why they wanted to change it," Burgess said. "We made changes that were fitting overall by taking into account what was originally there, what was changed, and what we need now."
DSG plans on making the constitution more accessible to the student body because, until now, it was something that had to be searched for. They will be including all of the documents hyperlinked on the DSG website in order to increase accessibility, especially if students have questions.
"One of my jobs as chief of staff is to run internal elections Last year, I was the elections chair. There was a lot of ambiguity in what election procedures were, what information we used, when things were supposed to be finalized by, and who was allowed to vote for what," Burgess said.
They said this was a problem last year because people did not feel as though they were represented in elections. Therefore, they wanted to clear up the ambiguities for the voting processes within the constitution in order to lay a foundation of equity for all students.