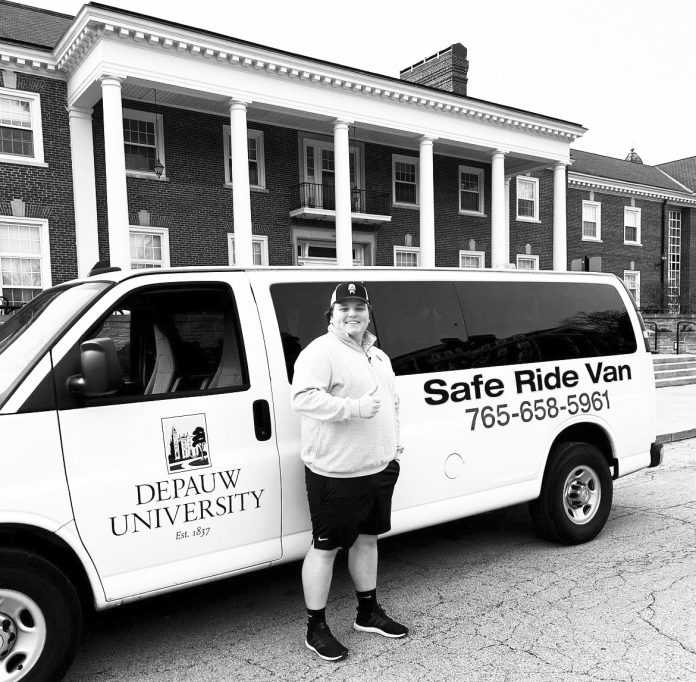 To provide free and accessible rural transportation to the student body, the DePauw Student Government (DSG) in coordination with DePauw University Police implemented the soft launch of Tiger Transit from January 24 to February 2. With operations every Tuesday and Thursday from 4 p.m. to 6 p.m., the shuttle service transported students from the Union Building to various establishments across Greencastle.
According to DSG President James D. O'Keane, basic local transportation has been a prominent issue among DePauw students over the past few years. The resolution of this issue was also part of his main advocacies during his presidential campaign.
"Not all students have cars or access to a car and ridesharing services are not a reliable method of local transportation in Greencastle," he said.
Moreover, approximately 40 students took the Tiger Transit during its soft launch, with Walmart being the most common stop among other enlisted destinations such as Kroger, CVS Pharmacy, and Eli's Bookstore. The initial two-week execution of Tiger Transit will also allow DSG and the local police department to carefully evaluate the program prior to its official launch.
Yet the initial logistics behind Tiger Transit were not a simple process for DSG.
"Beginning this past fall, I attempted to coordinate efforts with Zipcar, rental agencies, and various community partners to create a sufficient solution to our transportation issue," O'Keane said. "All those options, however, created liability issues or were beyond fiscally possible for DSG."
Eventually, he and his fellow DSG board members decided to coordinate with the DePauw University Police Department to utilize the Safe Ride van as the primary vehicle of Tiger Transit. O'Keane also personally volunteered as a driver for the program as he elaborated on the evident appreciation of students for the shuttle service.
"I came back to campus over Winter Term to launch this program and it has been well received by those that have used it. I speak for myself and the remainder of DSG when I say we are excited to be able to offer this service for all students…[as] this service has aided students in becoming more independent and making a more accessible campus environment."
Various DePauw students shared similar sentiments about the usefulness of Tiger Transit for easily accessing local transportation.
"[In the past,] it was a bit inconsistent to find out when exactly local transportation would be available," Melanie Kanyunyuzi, a first-year international student, said. "And if it were available, it would be quite costly."
One of these previous transportation options were local taxi services, with fees ranging from $5 to $80 depending on students' chosen destination. These also require students to directly contact local drivers due to limited access to common services such as Uber and Lyft. Meanwhile, the Greencastle rural bus offers a $1 fare for most one-way stops, yet includes longer travel times.
"Tiger Transit was more reliable [compared to other transportation options] because the schedule could be followed more easily," Kanyunyuzi added. "Every 15 minutes, the van would arrive on time and drop me off at my intended destination. Even if I was delayed by a few minutes, I just needed to wait another 15 minutes and it would pick me up in a timely manner."
Given the positive feedback from the initial program launch, O'Keane envisions the long-term implementation of Tiger Transit throughout campus.
"As for the future of the program, I am hopeful it will be around for a long time! I will continue to drive as my schedule allows, of course, with the help from other DSG members. With such a great start to Tiger Transit, it is my hope that this service can become a permanent fixture to DePauw's campus," O'Keane said.
In the future, DSG also plans to enhance the shuttle service through a potential weekend schedule and an increased variety of stops around Greencastle.