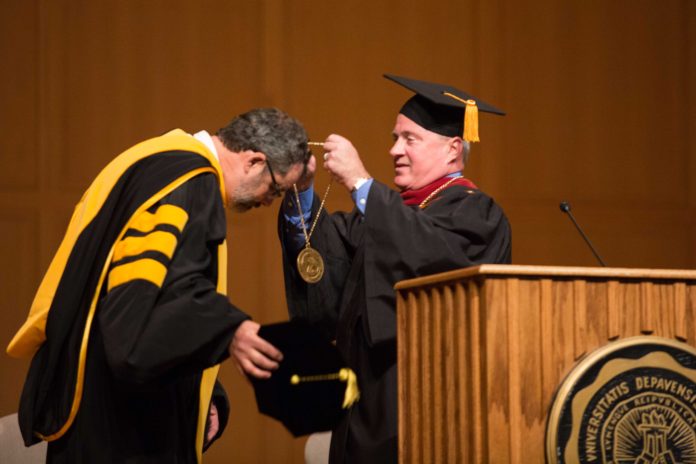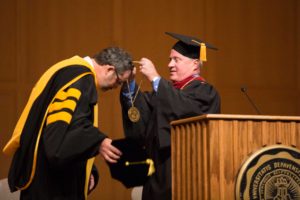 Four months into his presidency, Mark McCoy was officially inaugurated as the 20th president of DePauw University on Saturday noting he wants to do "good and noble work."
DePauw graduate and chair of the Board of Trustees, Marshall Reavis '84, began the inauguration by welcoming everyone to the event. "This is indeed a great moment for our university," Reavis said. He explained how this inauguration would be very different than passed presidents' because of McCoy's former position as Dean of the School of Music. Reavis stated it would be less of a welcome and more of a history of DePauw.
The testimony to the history of DePauw was embodied in the keynote address given by civil rights activists, advisor to Bill Clinton, and 1957 DePauw graduate, Vernon Jordan. Jordan spoke about many things, but made note of his hopes for McCoy's presidency. "Dr. McCoy, you are no stranger to DePauw," said Jordan. "My hope is that you will lead this institution in such a way that DePauw students will exercise their moral power."
After Jordan's speech McCoy gave his inaugural address. McCoy focused upon how he wants the University to move towards the best it can be, and the best way to get there is through action from the DePauw community. "DePauw is most importantly our people," said McCoy. "We are DePauw and it is to us to strive toward the ideal DePauw."
McCoy gave examples of faculty and staff to prove the dedication of DePauw. "As we pursue perfection we bring DePauw ever closer to the ideal," said McCoy. "DePauw has been a beacon of hope, an opportunity that has changed countless lives and continues to change lives every day and our good and important work will never finish."
In addition to McCoy and Jordan, multiple staff and faculty members spoke about the history of DePauw and Greencastle.