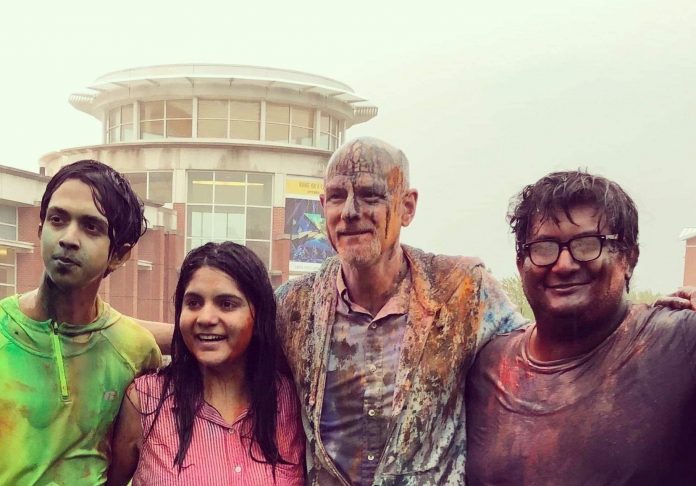 In addition to his job teaching computer science, Professor Doug Harms has spent the last 21 years at DePauw engaging with students, voicing social justice issues, and cooking Bulgarian food. Coming from an educational background with both parents involved in academia, Harms always knew he wanted to be a professor.
Over the course of the years he has worked here, he has led several service trips in May and winter terms to areas like El Salvador and San Diego. For a month, he lived among the slums of San Diego working with kids in those areas and learning about their stories.
"It was one of the most eye-opening experiences of my life," Harms said.
On this trip, a student of his opened up to having experienced sexual assault, prompting him to ask how he could help as a computer science teacher. His student replied, "Observe when your students stop coming to class. Observe when the suddenly stop actively participating, and then reach out to them."
Because of this moment, Harms began to send out emails to students and faculty members offering his support for whatever stressors they might be experiencing.
"You can talk to him without feeling that he is going to judge you, whether it's about your hobbies or your friends," sophomore Mana Kunimatsu said.
He has been involved in several on-campus social justice campaigns including the Sexual Assault Education and Prevention Committee, tabling for their Faces event last year. The event gave survivors an opportunity to share their story and experience through speeches, poetry and art.
Harms also has served as a passionate supporter of international students. After receiving a Fulbright to study in Bulgaria, he has tried his best to bridge the gap between international and domestic students on campus as much as he can in his position. His favorite event is the international student Bazaar held each Fall. Last Spring, he also attended the Festival of Colors organized by Dharma.
"I was walking past when I saw the festival happening, and I was like 'What the hell. This looks too much fun to miss,'" Harms said.
He expressed the wish that more domestic students would take advantage of the things done by international students and step out of their comfort zone to enjoy them.
"I certainly will not miss the [staff] meetings" Harms said. "Of course, I have so many memories—too many to mention—of working with wonderful colleagues and students."