Leonardo DiCaprio's film "Blood Diamond" was my first exposure to the issue of conflict minerals. In the movie, DiCaprio's character becomes involved in the business of conflict diamonds in Sierra Leone, where his search for a precious pink stone closely links him with the civil war and conflict occurring in the country at this time.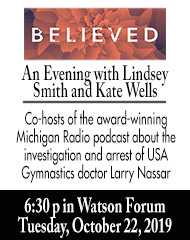 Although the narrative is fiction, the backdrop for the film portrays struggles over conflict minerals happening now in countries like Sierra Leone and the Congo. In mid-November, the Prindle Institute for Ethics (which will be open for study hours during finals, by the way) held an event that further raised my awareness about conflict minerals and discussed campaigns colleges could hold to make a difference.
Conflict minerals are minerals mined during periods of war, where the profit from the minerals finances militias and military units in the war. In eastern Congo, these militias fight to gain control of lucrative mineral-rich territories, while displacing communities and enslaving civilians in the process.
Undoubtedly, the multinational electronic corporations who buy these minerals are aware of the conflict, and what their purchase is funding. Minerals like tin, tungsten and gold are necessary for our electronics from cell phones to aerospace technology.
According to the organization Raise Hope for Congo, there is a "direct link between war in Congo and the consumer products we use every day." This means that we, as American consumers and DePauw students, have the power to make a difference.
Henry Dambanemuya, a junior computer science and conflict studies double major, introduced me to the role of conflict minerals on this campus my sophomore year, and his work since then is very impressive. I have listened to Henry raise awareness at multiple events, including the previous one at Prindle, and it is clear to me that this small rural Indiana campus I love so much can do its part to make a difference.
The solution is to use your purchasing power ethically to decrease the trade of conflict minerals, supporting peace and justice instead of furthering war. However, this does not mean that we return to the Stone Age and boycott electronics altogether. Consumers can demand to know where the resources for their electronics come from, and purchase their items accordingly.
The best way to do this is by lobbying your local members of congress to make the war in Congo a priority in foreign policy and to increase compassion towards central Africa in terms of justice.
Right now, there are no certified conflict-free electronic products, however, Greenpeace and the Enough Project have teamed up to release the "2011 Guide to Greener Electronics." This consumer guide takes into account a company's energy use, emissions and sustainable operations, which includes the use of conflict minerals. Each company is ranked accordingly.
With the holiday shopping season in full swing, take a second to think about where your gifts are coming from and how they were made. Purchasing locally made goods or making a creative gift this year are just a couple of ways this season of giving can give even more.
—Aldrich is a senior from Lexington, Ky., majoring in environmental geoscience. She is an intern at the Prindle Institute for Ethics.
opinion@thedepauw.com