DePauw's Dharma club is a celebration of all South Asian communities through exploring their culture and festivals. The club serves as a haven for South Asian students who wish to connect with each other and to practice their religion on campus, while also welcoming others that want to learn about religion and culture. To emulate culture and religion from home, the club hosts various events and festivals throughout the year, such as Holi, Diwali, temple trips, and even events such as the Bridgerton Ball, which was held last semester. The club also has frequent meetings where they invite both members and non-members to get together and get to know each other better while cooking food.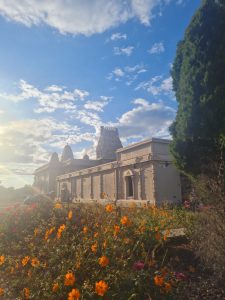 For the club's first trip for the academic year, they chose to visit a temple located in Indianapolis in celebration of Ganesh chaturthi, the commemoration of the birth of Ganesha –– the god of new beginnings, intelligence and wisdom. The Dharma club departed for Indiana's oldest temple, Hindu Temple of Central Indiana, on September 18th.
The 11,000 square-foot temple is surrounded by four meticulously carved pillars, each of which stands at a height of 99 feet. Inside the temple reside a total of seventeen shrines, each dedicated to a different deity and their granite-marble statues. The main worship hall that housed each of the shrines contained an intricate embellishment of figures that depicts Hindu deities and animals right above the arched entrance. Near the main entrance of the temple, there were also a number of goods that the temple was selling which included sculptures of the gods, books and even ethnic clothes.

After a brief overview of the temple and shrines, students were free to explore the temple as they pleased either by themselves or with members of the club who would describe each deity as they visited the shrines one by one. After visiting the temple, the club took everyone to an Indian cuisine restaurant called Five Star Indian Cuisine because food is also a very significant part of culture. After dining at the Desi restaurant, the students returned to Depauw by 11 PM.
Tapan Mandal, the treasurer of the Dharma club, stated that the club was created to promote a diverse environment, and to create a space for South Asian students to be highly represented.
"For Dharma, the main goal was making sure students feel at home away from home", said Mandal. Mandal mentioned a schedule for future events that included another temple visit, Diwali, and even another ball. Mandal also expressed his enthusiasm about freshman interaction, encouraging all freshmen to come by and attend one of the general meetings.

The next event for Depauw's Dharma club is scheduled for the 28th of October, Dharma Dashain, and is eagerly anticipated by all members of the Dharma club.