The DePauw women's volleyball team had a phenomenal home opener on Friday, September 8, winning two matches against Trine and Kalamazoo to kick off the 2023 NCAC/MIAA crossover.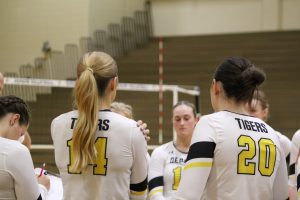 After starting their season 1-3, the women's volleyball team was looking to bounce back in their home gym in front of the DePauw crowd, and they delivered. DePauw swept Trine 3-0 to take the first game of their doubleheader and then defeated Kalamazoo 3-1 to finish the doubleheader sweep.
DePauw handled their first game against Trine behind an all-around team offensive and defensive effort, winning all 3 sets by comfortable margins. The Tigers took the first point of the set and never looked back, winning the first set 25-16 without relinquishing the lead once. The second set started in a similar way with DePauw winning the first point and jumping out to an early lead. However, Trine went on an 8 point service run to take the lead 10-7. DePauw responded with a service run of their own behind the serve of Junior middle blocker Ashley Haas. DePauw never looked back after that, cruising to a 25-18 second set win. The third set involved even more great volleyball from the Tigers, who won the set 25-16 to cruise to their first victory of the day. Freshman Kaiden Harrington led the offense with 9 kills, and Junior Ashley Haas led the way at the net with 7 blocks. The DePauw defense was on fire, racking up 52 digs, 12 of those coming from the steady platform of sophomore libero Grace Meyers, who was also great at the service line racking up 4 aces.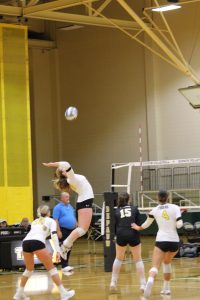 DePauw's second game against Kalamazoo was closer, but ultimately ended in a 3-1 win for the Tigers. DePauw took the first two sets 25-16 and 25-13 respectively. Kalamazoo battled back and took the third set in a nailbiter to win 25-22, but the Tigers finished out the game handedly taking the fourth 25-12. The defense for both teams was phenomenal with Kalamazoo making 56 digs and DePauw making 61. Kaiden Harrignton again led the offense with 10 kills, but not far behind was Junior Katie Gansle with 9 kills. Gansle also looked great on defense with 13 digs.
The DePauw women's volleyball team had a great start to their home schedule, showing out with two wins on Friday in front of a great home crowd, and the team defeated Adrian 3-0 on Saturday to mark an undefeated run in the NCAC/MIAA crossover. The Tigers proved this weekend that they have started to hit their stride and are slated to have a great season this year!