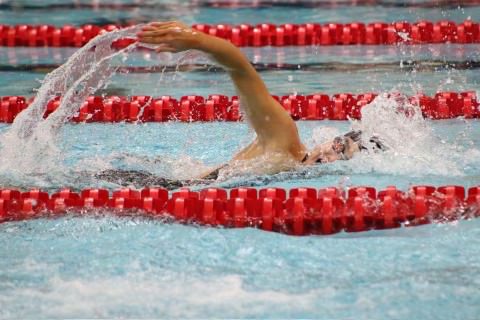 DePauw women's swim team traveled to Granville, Ohio Wednesday, Feb. 8 for the Conference Championship meet. After a long season that started in September, these swimmers were ready to compete for the conference title. 
Sophomore Madeleine Collier expressed confidence that the team was prepared for this meeting.
 "Our team has been preparing all season for this meet and have done an amazing job thus far gearing up for the conference," Collier said.
Collier is known for her backstroke and swam the 100 and 200 backstrokes for the meet. She was also in the 50 free. 
The team has gone 3-2 this season, and has proven they are a very strong team in the conference. 
"The team's biggest strengths are the support we have for each other," sophomore Meggan Mackenzie said, "and the ability to make any environment an exciting one to race in." 
Senior Emily Thompson agreed with Mackenzie. "I think our team's biggest strength is our ability to have fun while working hard," Thompson said.
Swimming is a unique sport in the sense that a whole season of hard work can come down to one moment and one race. 
"My biggest motivation going into this meet is all the work I have put in over the past year," Mackenzie said. "I want to make sure I perform better than I did the year before. People don't see all the work you put into the sport in and out of the water and this is my chance to show them." 
Mackenzie is a distance swimmer and swam the 500 freestyle, 400 IM, 1650M (mile). 
The women's swim team has been working hard all year, like any team there has been challenges in the way but these swimmers have come together to overcome obstacles driving their team to success. 
"My biggest challenge this year has been the length of our season," Collier said. "Lasting from September to February/March, it can sometimes be difficult to keep going when times are rough. However, our team does an amazing job in supporting one another and knowing that we are all in this together helps me put things into perspective."
Mackenzie emphasizes the importance of perspective in swimming. "I spent all first semester and last year criticizing every swim I had instead of looking at the whole picture, [or] how lucky I am to be healthy to compete and get to do alongside my best-friends," Mackenzie said.
Team chemistry is a crucial aspect to a team's success in competitions. Swimming is an "individual team sport" but this team has put a lot of effort and a strong emphasis on "team". 
Thompson has dedicated her four years at DePauw to this team and is ready to swim her hardest for her final conference appearance.   
"Knowing this is the last time I will compete after 19 years of swimming is bittersweet… I want to race this weekend to make myself proud of all the work I've put in over the years for this sport," Thompson said.
Thompson competed in the 200 Freestyle, 200 IM and 100 IM. 
The DePauw women's swim team appreciates any support from the DePauw community. 
"Having crowds in the stands always helps motivate our team and keep the energy up," Collier said.
Be sure to support the team via social media or through D3TV.
"Watch us from home!" Mackenzie said.
More information about the Women's swim team conference meet can be found at https://depauwtigers.com/index.aspx, or @depauwtigers on Instagram.