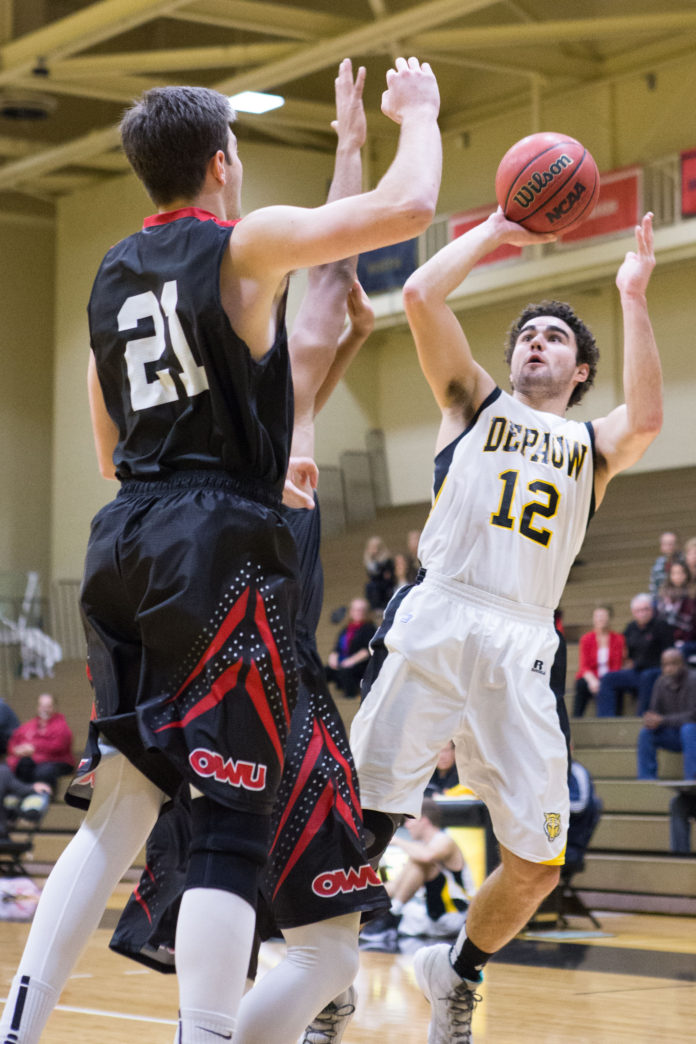 The DePauw University men's basketball team fell to the Ohio Wesleyan University on Saturday by a score of 84-71.
The loss moves the Tigers to 2-4 overall and 0-1 in NCAC play. Ohio Wesleyan University is now 3-3 overall and 1-0 in the conference.
Ohio Wesleyan was able to dominate for most of the game through their success beyond the arc. The Battling Bishops attempted 38 three-pointers and made 17 of them, scoring more than half of their points from three. The Tigers, on the other hand, shot 21 percent from the three point line, making only 4-of-19 threes.
Ohio Wesleyan went into halftime already up 43-29, and extended their lead to 20 almost immediately in the second half with back-to-back threes. Ohio Wesleyan would stay out in front of the Tigers, going up 80-50 late in the game, but the Tigers went on a 21-4 run to end the game, and ultimately outscored the Battling Bishops in the second half.
Although the Tigers had a huge deficit in the three-point margin, they shot almost as well as Ohio Wesleyan from the field, going 26-of-62 while Ohio Wesleyan went 29-of-62. DePauw outrebounded Ohio Wesleyan 38-31, and also had the edge in points in the paint, 34-22.
Ohio Wesleyan's Ben Simpson had 25 points and eight rebounds, leading the team in both categories. Will Orr added 17 points and five boards for the Battling Bishops, going 5-for-10 from deep.
Senior Luke Lattner paced the Tigers with 19 points and eight rebounds, while junior Jack VandeMerkt came close to a double-double with 18 points and nine rebounds, including seven offensive rebounds. Sophomore John Starkey came off the bench and added seven points and four boards, going 3-for-3 from the field.
"Ohio Wesleyan was hot that day and we couldn't really make anything and that's how it goes some days," Lattner said. "Our team defense was decent but we need to keep working on moving the ball offensively and knowing our stuff better so we can just react to however defenses are playing us."
"Ohio Wesleyan was having some trouble shooting as a team going into the game and their struggling players found their rhythm against us. That, and their superior ability to execute on both sides of the ball were really the primary factors in our loss," Starkey said. "We did show improvement in our defensive urgency and some of our offensive execution and we will only get better as the season progresses."