Unconventional. Ambitious. Bold. These three words come to mind when discussing DePauw's newest academic project: the addition of the Business and Leadership school. With its one-of-a-kind framework and interdisciplinary approach, the School of Business sets a nationwide benchmark for its pedagogy and innovation.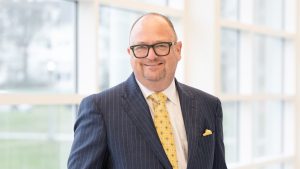 The addition of the dynamic business school also means the addition of Dean John F. Clarke, who is a decorated academic and successful former business consultant, with experience in three immensely different disciplines and a love for teaching and interpersonal development. He joins the DePauw faculty as an experienced educator, excited to make a difference in students from all walks of life.
While each school has a unique approach to its studies, the business school is becoming a part of a network of academia built to support students in their individualized academic journey. Despite these separate entities, the School of Business and Leadership wants to extend the integral lessons of entrepreneurship, sustainability, and civic engagement to every student on campus.
Dean Clarke commented on the untraditional approach to establishing the school's connection to the College of Liberal Arts and Sciences and the Creative School. "It's somewhat unique. The big difference is that… these are organizations that are aligned with schools and nothing is stopping a student from aligning themselves with any school." As Dean Clarke implores, "Entrepreneurs create solutions that create and capture value. We need to teach entrepreneurship in a way that every student understands how entrepreneurship applies everywhere."
At many conventional business schools across the country, a student's major of interest can restrict them from accessing resources from other schools. DePauw University and Dean Clarke had a different vision for intercollegiate collaboration. "Here at DePauw, everyone can choose to take advantage of any resource in the school. Because of this liberal structure, many of the things we are looking to implement at the school will be open for all students." He hopes to instill the idea that when the Business and Leadership school introduces new opportunities, "They are being deployed to students as a whole."
The business school's mission moving forward is "to create leaders the school needs" and encourage students to "become more aware of differences, and learn how to collaborate." The theme of preparing to see leadership opportunities as educational opportunities will extend far beyond the business school. Dean Clarke emphasizes that "all the work that we do in leadership is focused on leadership to all students," with the hope that the business school teaches students under its academic umbrella "skills and attitudes that support your overall personal and professional development."
Dean Clarke also expressed his expectations for the business program and the school as a whole in the years to come. "DePauw is going to become a place where other liberal arts schools come to learn how to do this. It is a fairly bold strategy to deviate from what other schools are doing. I hope that DePauw is elevated as [an institution] that is leading the way in terms of the future of liberal arts education."