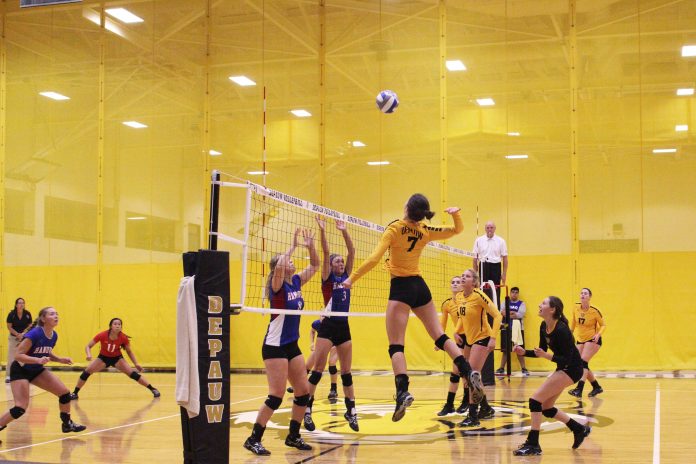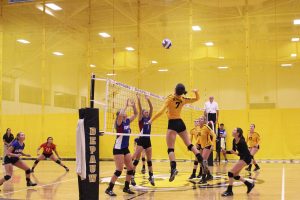 The women's volleyball team had a strong weekend, with victories over Trine University, Hope College, and Hanover College.  
DePauw opened up the invitational with a game against Trine on Friday night and handily beat them 3-0 (25-14, 25-14, 25-11). The Tigers hit .430, compared to Trine's abysmal mark of .011, and recorded eight blocks along with six aces. Sophomore offensive hitter, Suzanne Peters led the team with nine kills and hit .450 with no errors.  
After their win against Trine, the Tigers played against #6 ranked Hope College, and upset them in three straight sets (25-11, 25-21, 26-24).  Hope was hindered by a plethora of errors in the first set, committing 15 of them, while DePauw only had one. Hope played better in the second and third sets, but was still bested by DePauw's play.  
The Tigers played well on the offensive and defensive end, hitting .239 as a team and racking up ten blocks while holding Hope to a .048 hitting percentage. Senior middle hitter Elisabeth Wilson led the team with eight total blocks, three solo and five block assists, while Peters had 15 kills and junior setter Keegan Kollias assisted on 30 kills. DePauw handed Hope its first and only loss of the season so far.
In DePauw's first game on Saturday, they played a tough match against Hanover, a team they had lost to earlier in the season. The Tigers beat Hanover 3-0 (25-16, 26-24, 25-23). After falling behind 23-17 in the second set, the Tigers went on a great run and salvaged the set, 26-24.  
Senior libero Rachael Lenderman commented on the Tigers' resilience, saying, "When we're down, we stay together, and that's how we win our games."  Hanover took a 20-17 lead in the third set, but DePauw rallied to win 25-23.  Freshman right side hitter, Morgan Stearley played an excellent game against Hanover with 17 kills and a .333 hitting percentage, while Lenderman and defensive specialist, junior Emily Beckes, each had 16 digs.  
DePauw played Millikin University  in their fourth and final match of the weekend, losing to the Big Blue 0-3 (25-23, 25-19, 25-15).  The Tigers played with a high intensity in a back-and-forth first set but couldn't catch up to Millkin's score.  DePauw rebounded well in the second set, going up 11-8, before allowing Millikin to get 8 straight points and take a five-point lead, 16-11 and ultimately win the set.  
Millikin pulled away in the third set, outmatching the Tigers and winning by 10 points.  DePauw failed to achieve the attacking success that helped them in the first three games of the invitational.  The Tigers only had 28 kills to Millikin's 46, and they suffered in hitting percentage as well, hitting only .075.
DePauw improved to 10-3 on the season and had strong performances from numerous players, including Peters.  Peters had 37 kills throughout the tournament, and led the Tigers in kills in three out of the four games.  As to her success, she said, "It's a whole team effort on kills.  You have to get the pass first, and our setter [Keegan Kollias] was awesome, she was setting dime balls."  
Head Coach Deb Zellers was pleased with the wins over Trine, Hope, and Hanover. "Those three games really felt like we've taken a lot of steps forward as a team," said Zellers.  She was, however, disappointed the Tigers could not pull off the weekend sweep against Millikin.  "Whereas we had great mental toughness in our other matches, we did not have that in this match.  We fought, we didn't give up, but things just weren't going our way."