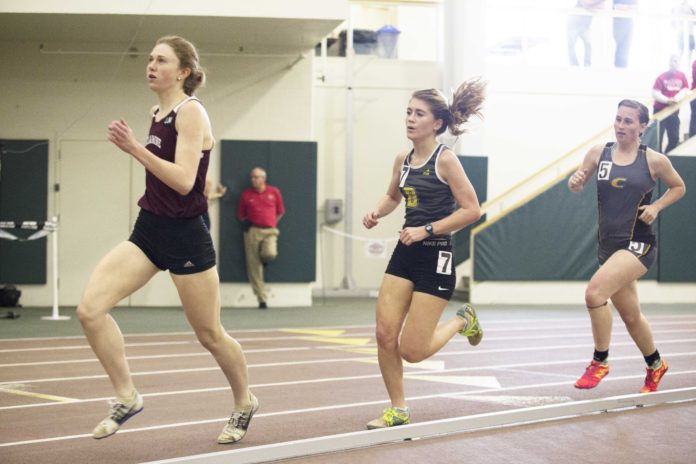 On Saturday, the DePauw Track and Field team traveled to Anderson University for their last competition before the NCAC Indoor Championships.
After an incredibly strong performance at the meet, highlighted by four first place finishes and two DePauw school records, the Tigers look to be in great shape heading into Conference season. The first school record was set during the men's 4x200 meter relay by the team of sophomore Chase Wright, first-year Luke Patty, first-year Dante Stewart, and sophomore Johnny Miller, who ran the event in 1:31.91. Their time broke the previous record of 1:32.61, which was set in 2001. The relay finished in second place in the event behind Wabash College, who finished with a time of 1:31.35.
The relay team had made it a goal to break the team record before the season started, and achieving their goal has them in high spirits. "It was a really special moment," said Miller. "To have three other guys on a relay who want something just as bad as you do is hard to come by. It says a lot about their character and dedication to this team."
The second school record to fall came after the women's 5,000-meter run, as senior Claudia Monnett outpaced Centre College's Annie Rodenfels to a first place finish with a time of 17:36.32. Monnett's time in the event was thirteen and a half seconds faster than the previous school record of 17:49.92, which was set by Leslie Dillon in 2006.
Although she beat her competitor from Centre by a slim margin of .28 seconds, Monnett remained humble to her competitor, and gave credit to Rodenfels for helping her achieve her fast time. "I have competed against her in our last several meets, and having such a strong challenger is crucial," said Monnett. "We both broke our schools' indoor 5,000 records at this meet by working together and we had a great moment of camaraderie."
The rest of the track and field team also provided strong showings throughout the meet, including first place finishes on the men's side by first-year Jordan Booker in the 400 meter with a time of 50.86, sophomore Zach Batt in the 800 where he finished in 1:58.63, and the team of Patty, Miller, Booker, and sophomore Alex Rossebo in the 4x400 meter relay with a time of 3:29.67.
The women's team collected two second place finishes from first-year Natalie Gruszka in the 800 meter with a time of 2:26.06 and senior Amanda Weber in the 200 meters when she finished in 27.45, as well as third place finishes by senior Becca Conley in the 5,000 meters with a time of 19:04.77, sophomore Brittany Welker when she finished the 1,000 meters in 3:44.75, and first-year Riley Hickman in the 3,000 meters with a time of 11:20.70.
The team's overall strong performance gives everyone high hopes for conference next week, as they will look to build off of this week's showing. "There's been years where we have been all over the place at this point in the season," said Head Coach Kori Stoffregen. "But I feel like we have a lot of momentum going into conference this year and we're fired up."
The Track and Field team will look to continue their great performances next weekend as they compete in their final meet of the Indoor Track and Field season: the NCAC Indoor Championships. The meet will take place at Oberlin College, with the first events taking place on Friday March 3 at 12:00 pm.