Despite the gloomy weather in the late afternoon of last Saturday, the glorious victory of the DePauw Football Team and the enthusiastic support from the crowd appeared to bring sunshine to the entire stadium. The DePauw Tigers successfully left a res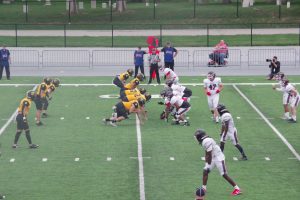 ounding mark in their North Coast Athletic Conference (NCAC) opener against the Hiram Terriers, winning a 49-0 victory.
DePauw delivered an impressive opening drive on just their second drive of the game. They needed just four plays to cover an impressive 76 yards. Quarterback Nathan McCahill '25 distinguished himself, teaming up with Jaylon Smith '25 for a spectacular 37-yard touchdown pass that put the Tigers on the scoreboard with 3:14 left in the first half.
DePauw continued to assert their lead in the second quarter, with McCahill providing another scoring drive. This time, he found Robby Ballentine '26 in the end zone for a 24-yard touchdown pass. The setup for this score was McCahill'spass to Caden Whitehead '26, giving the home team a spectacular score of 14-0.
Hiram, despite facing a formidable DePauw defense, eventually managed to get past midfield on their next series. However, their efforts were stopped when DePauw's Owen Rossell '26 and Joey Roland '26 picked up a key play on fourth down, followed by Gabe Quigley '24 on a 55-yard touchdown run down the right sideline that gave DePauw the lead.
As halftime approached, DePauw showed no signs of giving up. The Tigers took control of the game, embarking on an 11-play, 51-yard drive. The drive culminated in a short rushing touchdown by Gus Baumgartner '24 from the 3-yard line, extending the lead to 28-0 as the clock ticked down with 1:19 left in the half.
The third quarter saw McCahill and his talented receivers continue to shine. Once again, McCahill and Smith combined well for a 37-yard touchdown pass, capping a four-play drive that showcased their chemistry and accuracy. Soon after, Quigley showed off his versatility by scoring another 37-yard touchdown thanks to McCahill's accuracy. This impressive sequence put DePauw ahead by a 42-0 margin with just 47 seconds left in the third quarter.
With enthusiastic cheers of "Go Tigers" coming from the entire stadium, Baumgartner seemed energized, adding to his impressive performance with a 6-yard rushing touchdown, sealing the Tigers' 49-0 victory.
McCahill completed 17 of 21 passes for 357 yards and four touchdowns. Smith and Quigley played critical roles, each with five receptions; Smith collected 128 yards, and Quigley contributed 86. Hiram faced a resilient DePauw defense, going 18of 36 for 211 yards but was unfortunate to suffer two interceptions. Defensively, Luke Marsh '25 led DePauw with seven tackles, Nate Glazebrook '26 added five, and Ryland Irvin '26 and Matthew Coons '25 each had an interception.
Finishing the game with a remarkable 596 yards of total offense and scoring in each quarter of the game, the team's victory not only demonstrated their dominance on the football field but also set a strong pace at the NCAC opener, leaving no room for their opponents to doubt that they came to compete.