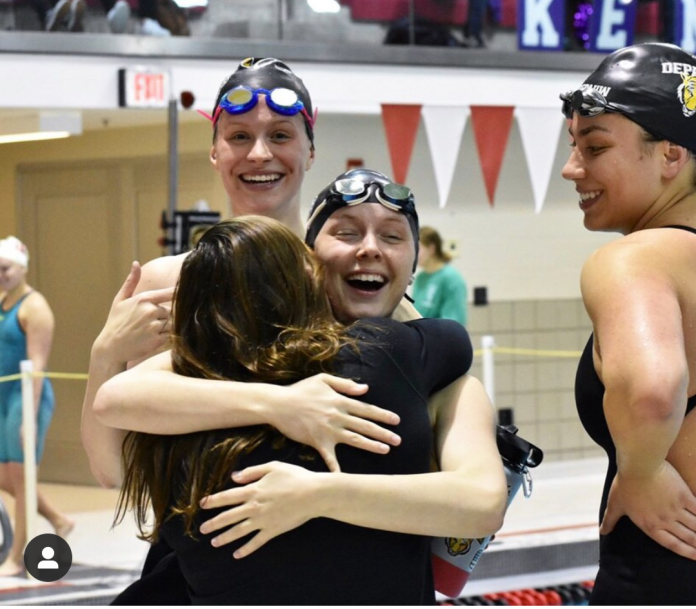 This past weekend, the DePauw's swimming and diving teams traveled to Granville, Ohio to compete in the NCAC championship. Both the DePauw men's and women's swim teams finished fourth, totaling over 1,000 points each.
The men's team trailed Kenyon by 891 points, Denison by 743, and Wabash by 242. Leading the way was junior Ian Longan, who finished seventh in the 200 butterfly and helped secure fourth in the 400 freestyle alongside Ben Hilfinger, Jake Frech, and Will Serf. Other notable contributors for the men's team were senior Max Staffey, sophomore Ben Minnet, and freshman Arthur Frankel. All of them placed in the individual freestyle top 20. This marks the end of their season.
"This year went really well and we had amazing performances all around," said sophomore Jack Christie. "Next year we will continue to improve and hopefully get a couple of guys to nationals."
Longden, along with Frech, will return as the two lone seniors next year. The men's team will graduate five seniors this year: Charlie Stewart-Bates, Max Staffey, Will Serf, Ryan Smith, and Matthew Netherton.
The women's team, led by Allison Lund, Rachel Graves, Ashley Dapore, and Sammie Waples, totaled 1,086 points. They trailed Denison by 958 points, Kenyon by 701, and Allegheny by 52. With the swim season officially over, the team will say goodbye to only two seniors: Lund and Olivia Neff. Collective efforts from individuals led to a respectable finish to the season.
"We had a small freshman class, so we're hoping for a larger class this next year to fill in some spots. We had to overcome a lot of injuries these past couple of years," said sophomore Emily Kaiser. "Luckily, our freshman swimmer Katie Decker is undergoing surgery on her shoulders and should recover enough to swim next year."
The women's team will return eight juniors next year, making for a sizable senior class. With a large veteran group returning, next year's team shouldn't lack leadership.