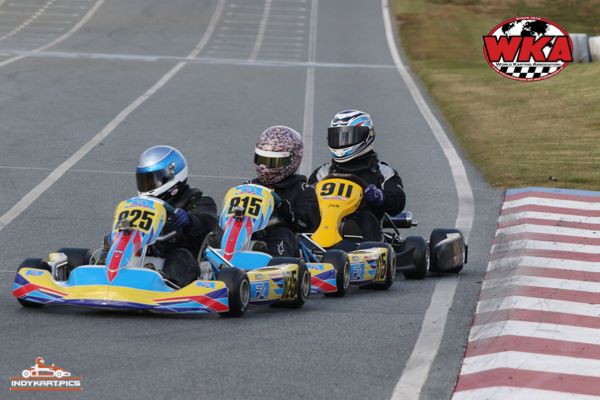 There are 21 varsity sports at DePauw University, none of which are car racing.
Sophomore Meghan Peri hasn't let that stop her from pursuing her dreams. Peri competes in the Yamaha Senior Series, a national go-kart racing league that has some of the best up-and-coming racers in the entire country. In November, Peri proved to be the best when she took home the championship over the dozens of other racers in the league.
"It was one of the coolest moments of my life," Peri said.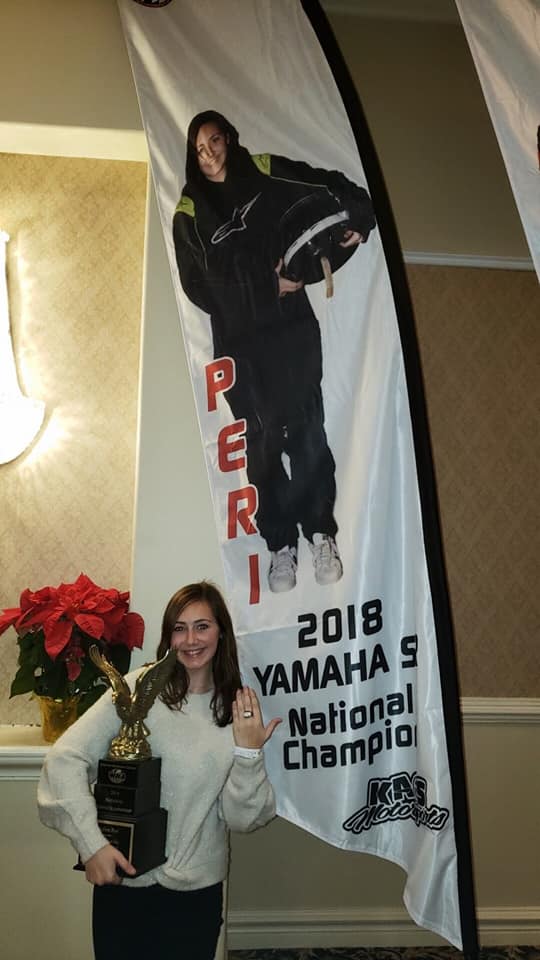 Peri began racing in middle school when her father enrolled her in a go-car racing program in Indianapolis. The Thorntown-native was reluctant at first and begged her father to take her home, but he made her stick with it and it paid off.
The class was a combination of actual go-carting and classroom-style lessons. Her dad and her would make the drive multiple times a week, expanding her knowledge and perfecting her craft.
Her love for racing took off when she made the upgrade from the learning program to competitive racing. Finally, she had the chance to put her skills to the test.
"I didn't think I would race long-term until I made the transition into the competitive league," she said, adding that joining the competitive league gave her more freedom compared to the class.
Peri's father serves as her mechanic. During races, she makes frequent stops to refill gas and communicate to him any problems with the car. He then makes any quick repairs needed and talks strategy about the race. Peri believes this may be the toughest part of racing, as she has to really understand her car to be able to accurately communicate information to her father.
"We don't get headsets like the professionals, so I have to remember everything that is going on and let him know when I make my next stop," Peri said. "I think that is the toughest part between practice and the actual races."
Peri practices at a track in New Castle, Indiana, a town about an hour and a half northeast of DePauw. During the fall season, Peri would have to make the trip across the state multiple times a week.
When Peri joined the Yamaha Senior Series, she wasn't just competing; she was winning. Establishing herself as one of the best racers in the league, momentum was building on each and every win.
Peri is the only woman who competes in the Yamaha Senior Series, which makes competing in it that much more satisfying. She goes into each race knowing she is being overlooked, so she loves to see the shock on the boys' faces when she beats them.
"I can just tell they are shocked sometimes," she said. "Once I started winning, they would be less shocked."
Peri, who grew up going to the Indianapolis 500 with her family every year, will never forget the opportunity she had to race on the historic track. "Just seeing how big that place is, and saying, 'Wow, I'm actually getting a chance to race here,' was unbelievable," Peri said.
The race was going well and Peri was battling it out with a few other racers near the front, weaving in between racers in order to pass the competition.
"I was racing reckless," she said.
ABout halfway through the race Peri connected with another racer, spun to the wall and crashed her car into the wall. She was rushed to an ambulance and taken to the hospital. She suffered a broken collarbone and sternum and found herself out of racing for months.
Those months of rehab were tough on Peri physically and mentally. Getting back into racing after a crash like that is tough for professional NASCAR drivers, let alone an amateur just beginning her career.
"I had a tough time getting back into it," she said. "But eventually, I was just itching to race again."
Peri came back better than ever, but more importantly, she raced smarter. This was not only safer, but beneficial when it came to winning. She learned more about her car and how it operated, more about how to take on turns and the best methods of passing and when it was best to pass.
This past November epitomized Peri's comeback. She finished first place and won the Yamaha Senior Series Championship because she was the racer with the most points after the league season. Racers receive more points the higher they finish in each league race. The champion is crowned based off the cumulative scores of all the races.
"It was an accumulation of all the work I've put in," Peri said. "I can't really describe the feeling I had at the moment. It's indescribable, I guess."
Peri will spend the summer in Italy, a program she got into through DePauw, so she can't compete in the upcoming season. She'll race in some pickup races this spring and continue to practice in New Castle, but she won't be competing as competitively as she was in the fall.
She doesn't know what the rest of her racing career holds. She hopes to get back into it competitively in the fall, but taking tougher classes at DePauw may hold her back more than they did before. No matter what happens in the future, these experiences have shaped Peri into the woman she is today, and racing will always be a part of her life.
"I will never forget the memories I have made racing," Peri said. "I've had the time of my life."