On May 17, 2023, at 2:05 p.m., DePauw students received an email from the Office of the President, detailing massive changes to the university as a result of the 2027 Bold and Gold Strategic Plan. The email stated that these changes will "reduce our overhead expenses, strategically align staff offices and services, modernize our administrative system and steward our endowed funds in the best way possible." 
The email went on to explain four major changes to the way DePauw University will operate: "Aligning our resources to the three-school model," "Reimagining the Honor Scholar Program," "Prioritizing scholar recruitment in primary markets," and "Refocusing the music degree programs." 
First, DePauw plans to realign student resources to fit one of the three schools––the College of Liberal Arts and Sciences, the School of Business and Leadership, and the Creative School. The College of Liberal Arts and Sciences will house organizations such as the Pulliam Center, Media Fellows, Science Research Fellows, Environmental Fellows, and Global Studies Fellows, among other faculty development and grant programs. 
The School of Business and Leadership will now contain the McDermond Center, Hartman Center, Prindle Institute for Ethics, Ullem farm and sustainability programs, Sanger Leadership Initiative, and Management Fellows. 
The new Creative School will house the 21st Century Musician Initiative, DePauw Galleries, Tenzer Technology Center, Information Technology Associates Program, and other performances and events. 
DePauw also announced plans to "sunset admissions" to the Honor Scholar program after fall of 2023, although students who will begin the program in the fall 2023 semester or before will still be able to graduate under the current plan. Similarly, DePauw revealed the discontinuation of the New York Posse scholar program in order to focus on "partnerships with regional college access organizations" in the Midwest region. Current New York Posse scholars, along with those incoming for the fall of 2023 semester, will be able to continue their education at DePauw under the program. DePauw will continue to partner with the Chicago Posse program. 
Lastly, DePauw announced the cessation of the Bachelor of Music (B.M.) and Bachelor of Music Education (B.M.E) degrees after the fall of 2023. The Bachelor of Arts (B.A.) and/or Bachelor of Musical Arts (B.M.A) degrees will continue to be available for students. Incoming fall of 2023 students and current students pursuing these degrees will be able to complete their degrees at DePauw. 
The Office of the President ended the email with information about a Zoom forum on Friday, May 19th, at 2 p.m., at which students can voice any questions or concerns. A separate email was sent out at 2:12 p.m. to all students, with an invitation to join the meeting. 
This breaking story was updated on May 21, 2023 based on information from School of Music professors.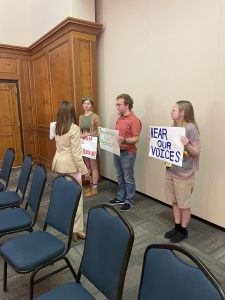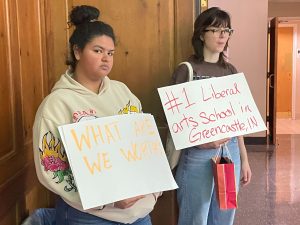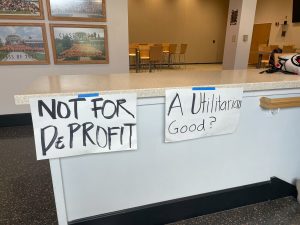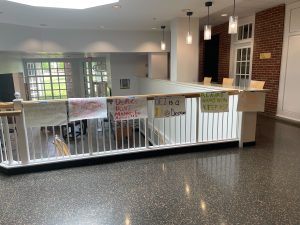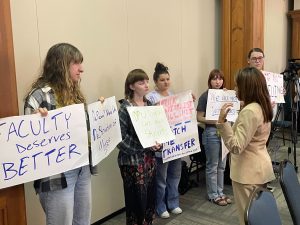 Images of student protests on May 18th.