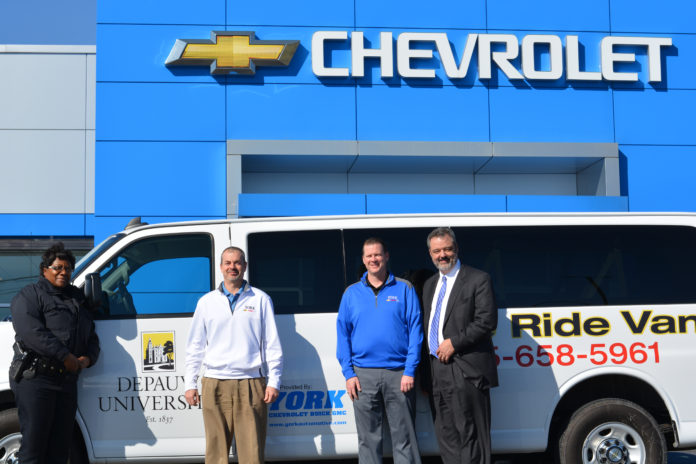 After a decade of late nights chauffeuring students around campus, DePauw University's Safe Ride van was replaced. Greencastle resident Robert York of York Chevrolet Buick GMC Truck donated the new van.
"Students had said to me, 'Boy the Safe Ride van has broken down a lot.' And in a tight budget year we don't have a lot of money to throw towards vans," said University President Mark McCoy. "I was having lunch with Rob York and said, 'You know, this is the way we keep our students safe at night and take them from place to place. The van's broken down.' He was like, 'let us help.'"
The current Safe Ride van's brakes had gone out prior to DePauw receiving the new van. "It had, like, 100,000 really rough miles for a car because anytime you're running stop sign to stop sign, it's really hard on transmissions," said Director of Public Safety Angela Nally.
Before the donation, students had voiced concerns over one Safe Ride van not being able to keep up with student demand. The purpose of the Safe Ride program is to provide transportation at night for students who feel unsafe on campus and need an escort.
But according to Nally, students may be the cause of their own concerns, because students sometimes use the Safe Ride program for reasons other than its intended purpose.
"In the scope of the Safe Ride program, it's not public transportation. It's supposed to be a safe ride, and we really encourage patrons to only use it when they aren't feeling safe," Nally said. "It's a struggle when six people are going to one location. . . . Sometimes people will want a ride because of what they're wearing versus not feeling safe."
While the purpose of Safe Ride is to escort students who feel unsafe, the van has often been used for transporting people between parties. Senior Emily McCarter, has been driving for Safe Ride on Monday nights since the beginning of the semester.
"Since it's a Monday, I'm actually driving people that need the rides, rather than people going out," McCarter said. "[Safe Ride] was originally for actual safe rides across campus, like if it was too late or if a person didn't want to walk alone, but now it's turned into this thing for going out to just get there quicker and not be cold."
In the past, DePauw Student Government has discussed getting a second van in order to address the issue of people being denied, ignored, or picked up at a later time than originally requested; however, the white paper, or authoritative report, on the issue never came to fruition. Nally also added that putting limitations on who can use the Safe Ride van had been discussed, but ultimately decided against it, due to it being hard to put parameters on what "feeling safe" means.
Some students reported that Safe Ride driver Patrick Quillin told them their walk home was safe and they did not need a ride. To this, Nally said no student should be denied a ride because of the distance between the locations.
"We have not given our drivers any kind of instruction to tell people that's too close [to drive]," Nally said. "If there is a person out there who has been told that they can't have a ride because it's not a far enough walk, we need to know that."
Quillin deferred his official comments to Nally and Charlene Shrewsbury, the Assistant Director of Public Safety.