As junior Victor Alfonso read the Jewish Mourner Kaddish, sophomore Maggie Ephraim thought she'd likely be one of about five people standing as she always has for the prayer. Instead, more than 150 members of the DePauw and Greencastle communities rose from their seats and stood in solidarity with the Jewish community.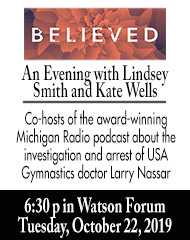 Ephraim, Hillel social chair, said, "All of the support that I didn't know that we had, but hoped that we had, it's been affirmed."
DePauw Hillel hosted a vigil on Thursday, Nov. 1 for the 13 lives that were lost last week in the shootings at the Tree of Life Synagogue in Pittsburgh and the Kroger in Kentucky.
Dana Strauss, Vice President of Hillel, said that the event and all of the planning that went into it was the start of a healing process. "We've always been a small community, a small percentage, with a small voice," Strauss said. But she feels as though the vigil changed things. "This made my place at DePauw feel more stable."
Adam Cohen, coordinator of DePauw spiritual life, said this was the "first truly campus-wide community invitation where students stood up proudly, and said, 'I am a Jew.'" Cohen said that the community's response "gives him hope. This really is a campus that cares."
During the vigil, members of Hillel read prayers, including a Kaddish meant to be read after gun violence and a prayer written by Rabbi Naomi Levy for the victims of the Tree of Life shooting. Chaplain Sami Aziz, President of the African American Association for Students Kaleb Anderson, President Mark McCoy, and Chaplain Katherine Smanik were all invited to speak.
Cohen said, "It's been a rough week," but called on community members to focus on the people, the good all around and to remember that actions really do matter.
Smanik said that different minority groups reached out to DePauw's Jewish community, including the Committee for Latino Concerns who asked to include the names of the victims in their Thursday Dia de los Muertos event. "This is the kind of community I want to be a part of," Smanik affirmed.
Aziz wants to remind students that he and the other chaplains are there for students "to listen, to hear, and to heal."
"I have a dream for a world in which all people would embrace each other," Aziz said. "Perhaps I'm naive, but I see all of you with your various lives, beliefs, ethnicities and think and hope that this gathering is a great sign of a future full of hope."
Anderson reminded the crowd of a number of African Americans who have senselessly lost their lives to gun violence. He called students "to live committed against hate so that one day all that resounds is love."
McCoy spoke on behalf of the DePauw community and said, "We denounce the actions …. that separate, that discriminate, that sew hate."
The rain outside Meharry Hall reflected the mourning of the DePauw and Greencastle communities. But moving forward, rain or shine, Cohen says they must stand, and stand against hate.