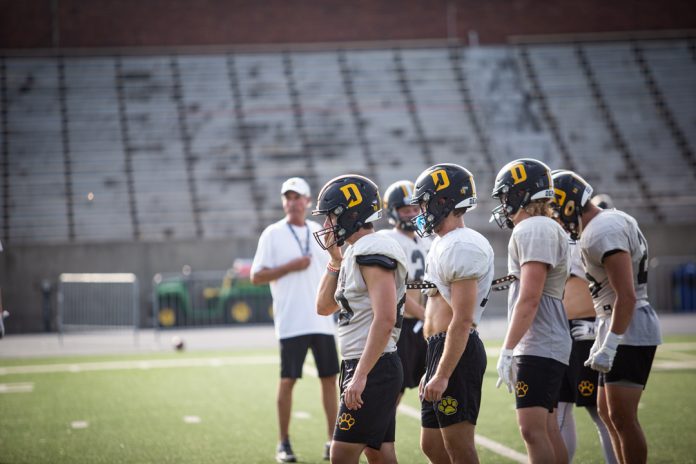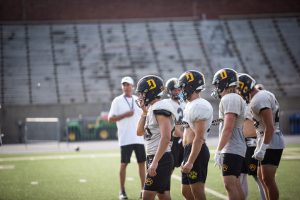 The DePauw Tiger football team opened conference play with a win over Kenyon on the road. The Tiger defense held the opposing Kenyon team scoreless through three quarters until the Kenyon offense broke through in the fourth. DePauw scored twice in the first half and once in the second half. It was enough to take the Tigers to victory.
Although DePauw's defense could not shut down opposing quarterback Thomas Merkle, who threw for 261 yards, the defense allowed only 18 yards on the ground.
About stopping the run, first-year Adam Pozzobon said, "It started up front with the D-Line. We did a good job blocking run lanes and preventing them from running all over us. It was a really a bend-don't-break mentality in terms of scoring. They drove the ball a couple of times and got close to the red zone, but the defense stood up and made plays when they needed to."
Kenyon's offense racked up 279 yards of total offense, but DePauw's defense forced three turnovers. Junior Chase Andries threw for 140 yards and two touchdowns, and Noah Jones busted through the Lords' defense, running for 73 yards and one touchdown.
Andries has thrown for 323 yards in two games this year, and it appears his favorite target is senior Will Harris. Harris has 12 receptions in two games, and four of them, including his touchdown catch, came against Kenyon. Gavin Ritter was this week's breakout star, snagging four receptions for 50 yards.
DePauw continues conference play this weekend away against Wittenberg University. Averaging 234 yards per game, DePauw will have no problem generating offense against the Wittenberg Tigers, who has allowed 243 yards per game on average.
The DePauw defense will have a steeper hill to climb, as Wittenberg averages 346 yards of offense per game. Kickoff is at 1 p.m.