Amid a network outage, raw vocals and instrumentals could be heard from the Kresge auditorium on November 2, as students and community members alike gathered to listen. DePauw choral groups Vox Animae and Chamber Singers, as well as the Putnam County Festival Choir, performed a series of pieces ranging from Z. Randall Stroope to Stephen Sondheim.
Conducted by Director Eric Schmidt and accompanied by pianists Natalia Rachford and Claudia Santana, the ten performances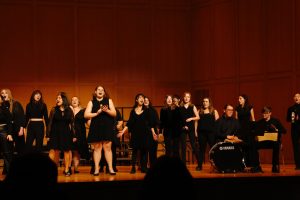 called for a well-deserved standing ovation at the end of the night.
The Putnam County Festival Choir kicked off the night with three pieces, all with different emotional expressions. "Agnus Dei" by Gabriel Faure emulated a haunting tone with powerful crescendos. Z. Randal Stroope composed the other two songs, "The Pasture," a joyful piece about companionship, and "Lamentations of Jeremiah" which paints the dramatic Biblical scene with its commanding forte. Stroope was on campus for the choir's "Choral Fest" in which he worked with visiting high school groups and the DePauw choirs. Community members and students alike were able to share this special music.
"What was important to me when I started our Festival Choir was that I also offer a platform that allows residents of Greencastle, Putnam County, and beyond to sing together with our students," says Schmidt, who during his six years at DePauw revived the community ensemble after its 20-year absence. "It is my hope that we offer this kind of connection between town and gown."
The treble group, Vox Animae, sang the classic Sondheim ballad "Not While I'm Around." A captivating acapella arrangement soon followed, titled "Melodijas," which illustrated how music can be a refuge for those who listen to it. Another Stroope composition, "Revelation," featured soloist Lindsay Uhrich '24, whose alto voice resonated throughout the room. Vox Animae proved how extensive their repertoire can be.
The Chamber Singers, a mixed group, also shared a wide variety of pieces, all expressing different emotions. The piece "Exclamavit and Prelude" by Richard Einhorn is a moving piece that is to be performed with the Indianapolis Orchestra live to accompany a silent movie in the spring. "Spaseniye, sodelal," a hymn sung acapella, and "Tarantella," by Stroope, contrasted each other in style. "Tarantella" is a Southern European piece that translates to "spider dance," a song that pays homage to workers in the field who would often get bit by poisonous spiders and would have to "dance" the venom out. This energetic song was immersive, as students clapped and stomped to the rhythm.
As the show came to an end, both collegiate groups Vox Animae and Chamber Singers sang and danced to "Balleilakka," a South Indian production that included percussionists Wilson Brummet '24, and George Kolodsick '26, who kept a quick tempo on the drums. Soloists Evan Roberts '27, and Molly Murphy '24, sang lively solos, powerful accompaniments to the drums, and sounds of students dancing. It was a technically difficult piece performed flawlessly.
The concert showed diversity in each group's abilities. There is nothing more enjoyable than to watch singers get emotionally involved in what they are performing. Students and community members presented flawless talent and professionalism. The spring season is much anticipated, and will come with successes that are much deserved!