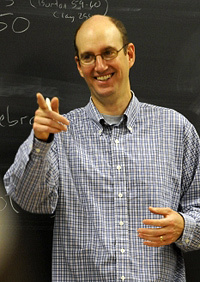 Students outside the DePauw community will get a chance to access the DePauw experience with the new lecture program, "From Our Classroom to Yours," where faculty have volunteered to virtually teach high school students a variety of topics to supplement the work they're doing in their own classrooms. 
The synchronous lecture program will be available to high school classes of any size in any place, not limited to Indiana or even the U.S.
Ranging from topics such as the ethics of racial and racist jokes to the effects of technology on the brain, the opportunity to learn from DePauw faculty's expertise will be offered from March 1 through May 31 and again in the fall.
Vice President of Academic Affairs Dave Berque came up with the idea for the program after thinking about lessons learned from COVID-19, specifically DePauw's newly discovered Zoom skills. Berque said this program is a great chance for DePauw to serve K-12 educators and their students after a tough year of virtual learning.
History professor David Gellman pointed out that because of the pandemic, it may be hard for students to visit DePauw. This program will provide students with DePauw professors' vast knowledge and an inside look at what a DePauw class is like. 
"The pandemic is nobody's ideal world about how to do business," Gellman said. "But this struck me as a really clever way to make lemonade out of lemons."
Gellman is offering two courses for the program, one on Bruce Springsteen's America and the other on the movement to abolish slavery in the U.S. He said that he wanted to choose topics that high school teachers may not be currently covering or have the expertise to teach.
"We've got too many good things going on here [at DePauw] for the world not to know about them," Gellman said. 
The program offers courses on topics such as economics, psychology, ethics, history and geosciences.
Professor of Geosciences Tim Cope will teach a course on the White Island volcano in New Zealand that erupted in 2019, killing 22 tourists. This topic hits home for Cope as he said he's led field trips inside the crater of this volcano many times. 
Cope said he is excited about the opportunity to get high school students more interested in geology. "High school students seldom get a lot of exposure to geoscience, especially in the Midwest," Cope said. "This program offers an opportunity to give them a first-hand narrative of what some geoscientists do."
Like Cope, Andy Cullison, director of the Janet Prindle Institute for Ethics and associate professor of philosophy, said he is looking forward to exposing high school students to his unique course material.
Cullison is offering five different course options revolving around ethics, leadership, and political science. "I hope that this inspires them to take the study of ethics seriously," he said. "And take that desire and passion with them into wherever they go to college."
Cullison said that the Prindle Institute has a national engagement mission, believing colleges should be engaged with K-12 students. "We think of the college as limited to students who come here and reside in residence," Cullison said. "But I think the mission of the college is a bit broader, the mission of the college is to prepare people to be responsible citizens in a flourishing democracy."
Gellman said that once COVID-19 is over, he hopes DePauw can think of ways to conduct the program both virtually and in person. "Maybe it becomes something DePauw is known for," he said.